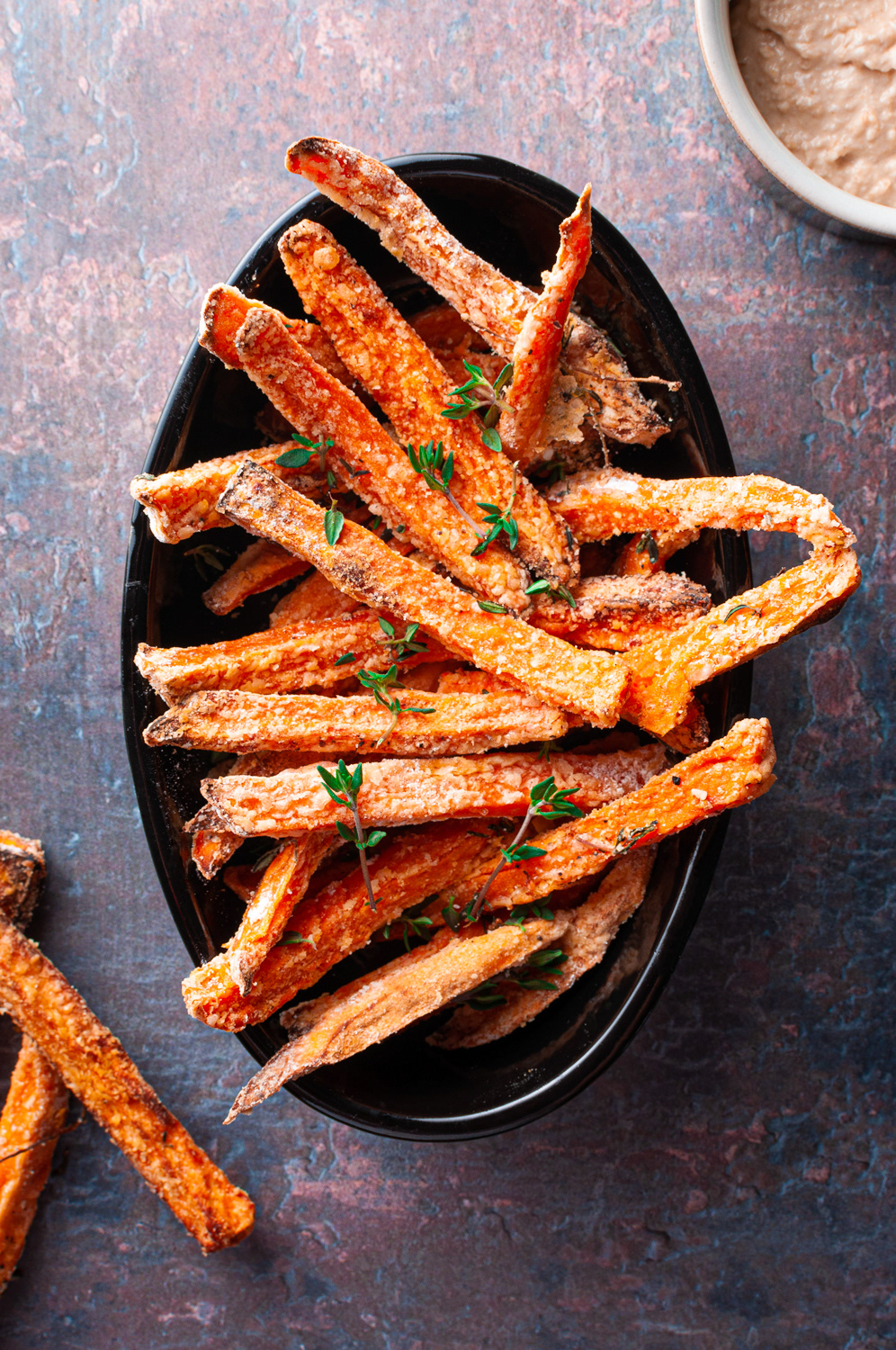 Step 1: Peel your sweet potatoes and cut them into long strips. Place the fries to a bowl and add the 2 tablespoons of cornflour, make sure all of the sweet potato stripes are fully covered.
Step 2: Drizzle the 3 tbsp of vegetable oil, (cooking spray) and toss until they are evenly coated. Add  salt, pepper, garlic powder, thyme, paprika, whatever you want!
Step 3: Place them on a baking tray with some kitchen foil, spread the fries around - needs to be an even layer, do not overlap them - space them out.
Step 4: Bake them for 20 min at 210 c (fan) then flip them over and place them back again for another 10. That's it!! Yummy Sweet potato fries!
3 cucharadas de aceite vegetal
Paso 1: Pelar las batatas y cortarlas en tiras. Poner las batatas en un bowl y agregar las dos cucharadas de maizena, incorporar hasta que todos los bastones estén cubiertos.
Paso 2: Rociar las 3 cucharadas de aceite vegetal y mezclar hasta que todos los bastones estén recubiertos de aceite. Agregar la sal, pimienta, tomillo, ajo en polvo, paprika, lo que quieras!
Paso 3: Poner los bastones de batata en una bandeja con papel aluminio, separar los bastones que no esten juntos o uno arriba del otro ya que tienen que cocinarse  y sí están muy cerca se van cocinan al vapor!   
Paso 4: Cocinar por 20 minutos a 210 c (fan), darlos vuelta y cocinarlos por otros 10 min. Fíjate que no se están dorando mucho y listo!! Deliciosas papas fritas de batata.