200g of Gluten free plain flour.
Step 1: Mix the egg + milk, mix it well. Once combined add a pinch of salt, pinch of sugar and the gluten free plain flour. Whisk until you have a soft liquid consistency.
Step 2: Heat up a pan with a little but of butter, once melted add one big spoon of the mixture let it bubble up and turn it over (1 minute on each side more or less)
1 chicken breast (if you want to)
Step 1: Cook the chicken with some salt pepper, Italian dressing around 10 min, let it cool down. Once chilled, shred the chicken and leave it on a side.
Step 2: Boil the spinach for 5 minutes, drain it. Squeeze the remaining moisture of the spinach. Place the spinach on a board and chop it. Place it on a bowl, add the ricotta cheese, salt pepper, nutmeg, cheese, ricotta and shredded chicken. Combine.     
Step 1: Grab one the crepes and place two tablespoons of the spinach and ricotta filling into one of the corners then roll the crepe over, that's it one cannelloni done! Place it into a baking dish, repeat the process with the remaining crepes.
Step 2: Cook it for 20 min at 180c (fan), in the meantime heat up the tomato sauce of your liking.
Step 3: Add some grated cheese on the top and put the cannelloni under the grill for a few minutes, until golden. Enjoy!!!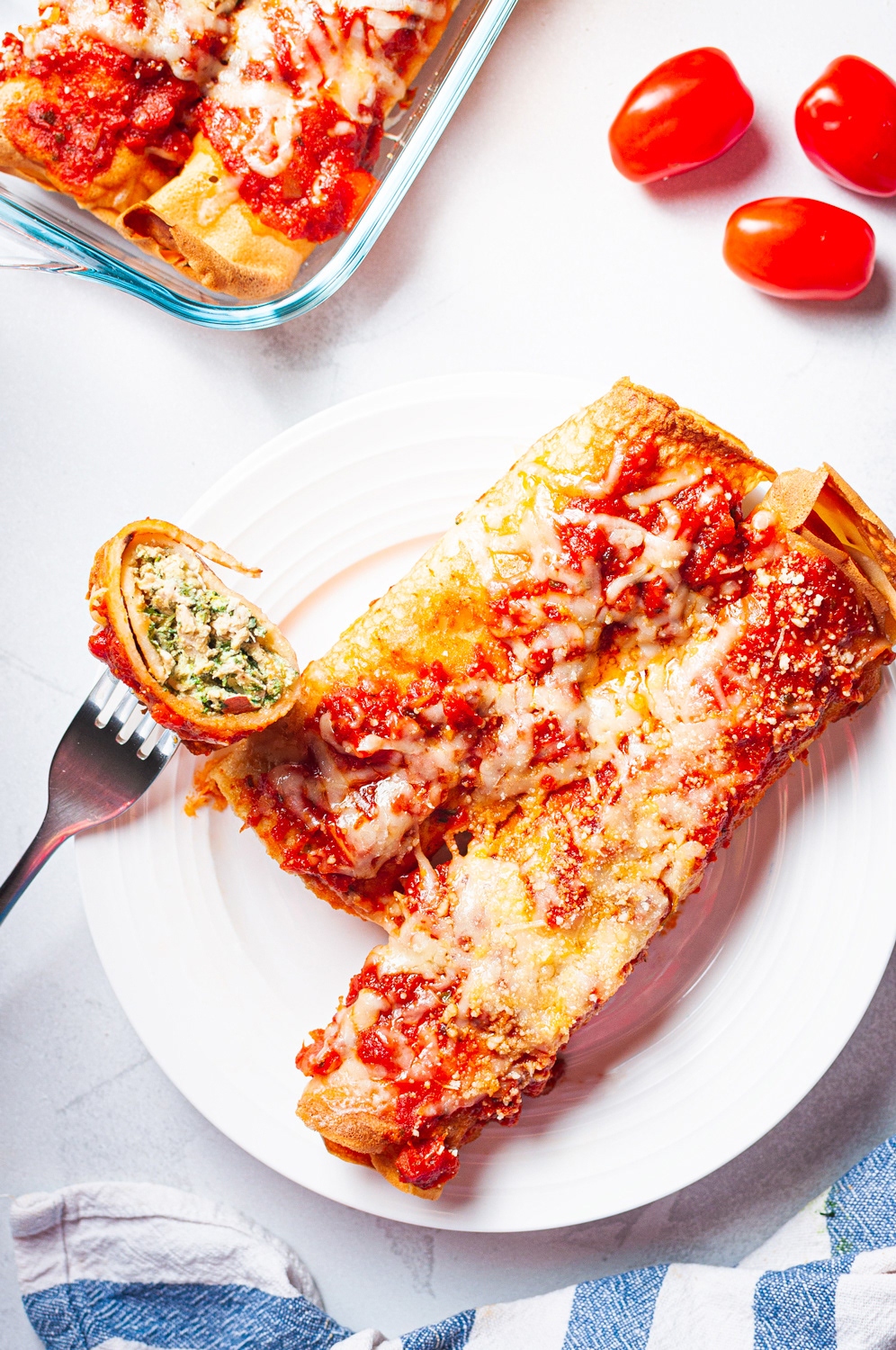 250ml de leche (la que te guste)
200g de harina sin tacc/premezcla
Paso 1: Mezclar el huevo y la leche, batir hasta que todo este bien combinado. Agregar un pizca de sal, una pizca de azúcar y 200g de premezcla sin tacc. Mezclar hasta que todo este combinado, buscamos una consistencia suave.
Paso 2: Calentar la sartén con un poco de manteca, agregar un cucharón de mezcla. Una vez que veas burbujas darlo vuelta (al rededor de 1 minuto x cada lado)
1 pechuga de pollo (solo si queres agregarla)
Paso 1: Cocinar la pechuga de pollo en una sartén con un poco de aceite de oliva, sal, pimienta y oregano (condimentar el pollo como te guste) por 10 minutos o hasta que se haya cocinado por completo, dejar que se enfríe. Una vez que se haya enfriado cortar el pollo en pedazos.
Paso 2: Hervir la espinaca por 5 minutos, escurrir. Exprimir con tus manos el agua restante que pueda llegar a tener la espinaca, ponerla en un tabla y cortarla, dejarla en un bowl al costado a que se enfríe. En otro bowl poner la ricotta, el queso rallado, el huevo, sal, pimienta, nuez moscada, pimentón y el pollo picado, mezclar bien. Agregar la espinaca, volver a revolver.
Paso 1: Agarrar uno de los canelones, agregar dos cucharadas de relleno en una de la esquinas del panqueque y enrollar! Hacer el mismo procedimiento con el resto de los canelones.
Paso 2: Cocinarlos por 20 min a 180 c (fan), mientras se están cocinando cocinar la salsa de tomate que te guste.
Paso 3: Agregar un poco de queso rallado arriba y gratinarlo hasta que este dorada. Ahora sí a comer!!!