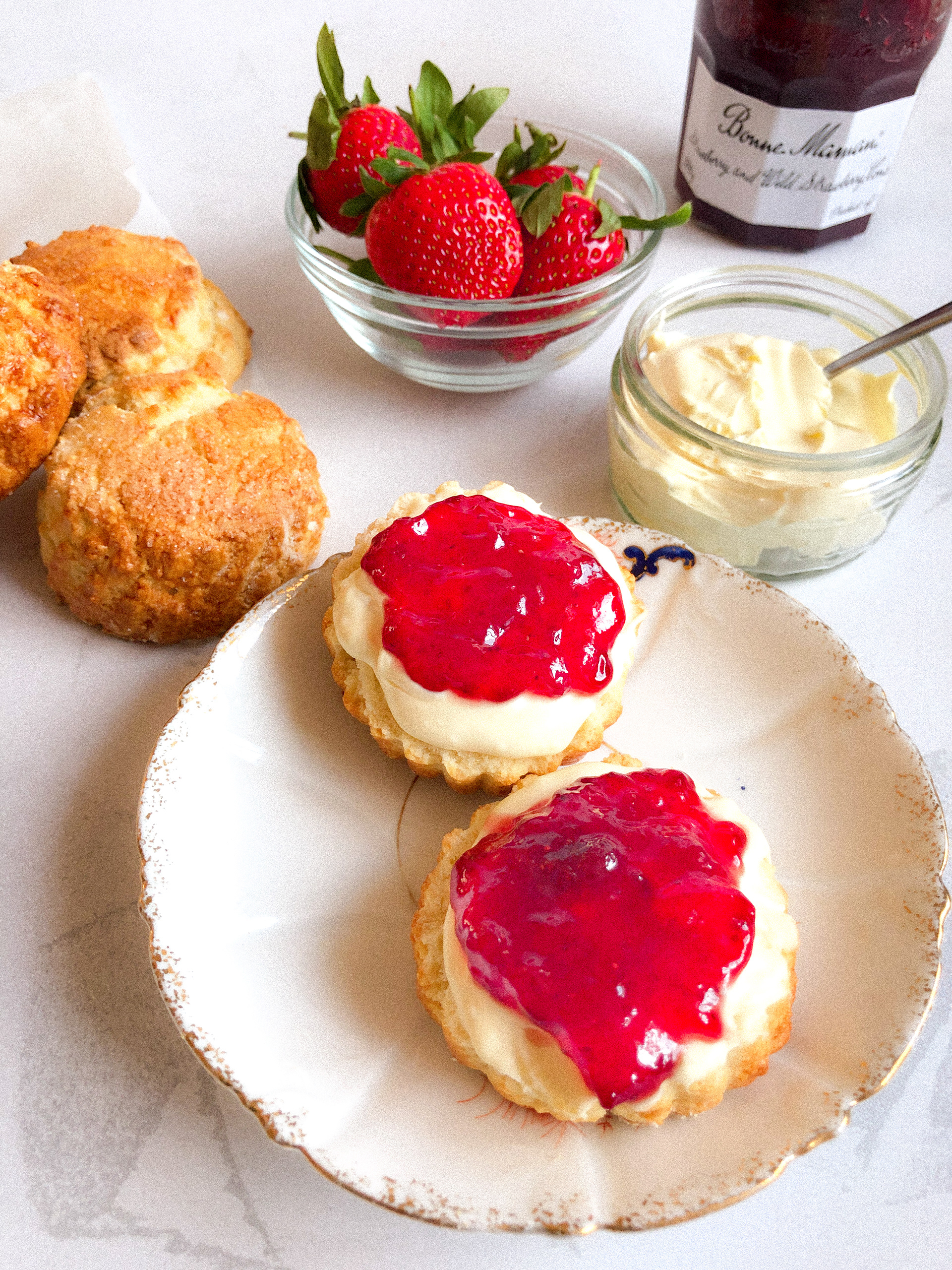 340 grams of Gluten Free Self Raisin Flour - I used Doves Farm
85 grams of butter/margarine
4 tbsp of golden caster sugar / granulated sugar.
175 mil milk - dairy free milk if you want to
1 Cutter (50 mm) or a Glass!
1) Preheat oven 200 c (fan), 210 c (gas), 440 F, Warm up the milk for 15/20 seconds, add the lemon juice and Vanilla extract, leave it to cool.
2) Place the GF SR Flour, baking powder, xanthan gum in a bowl. 
3) Between 2 greaseproof papers push the butter until is one even sheet, cool it down, cut it in small pieces and add it to the flour mix. Rub it between your fingers, we are looking for a breadcrumb/sandy consistency.
4) Add the caster sugar, create a well in the center of the mixture. Add the tepid milk/lemon/vanilla to the well; then mix the flour and the liquid ingredients gradually, drawing the flour from the inside walls of the well.
5) Dust your work station with GF flour and work the dough a few times to bring it together.  Mould the dough into a rounded shape around 4cm tall.
6) Dust the cutter/glass with flour and cut the dough. (reassembly the dough as many times needed)
7) Brush the scones with some egg wash and dust some sugar on the top for extra crunchiness.
8) Place the scones into a preheated baking sheet and bake them for 12 -14 minutes. (golden on the top)
9) Time to enjoy!! Add some clotted cream and strawberry jam.
10) Store at room temperature - well wrapped or place inside a food container up to 3 days, you can also warm them up again if needed!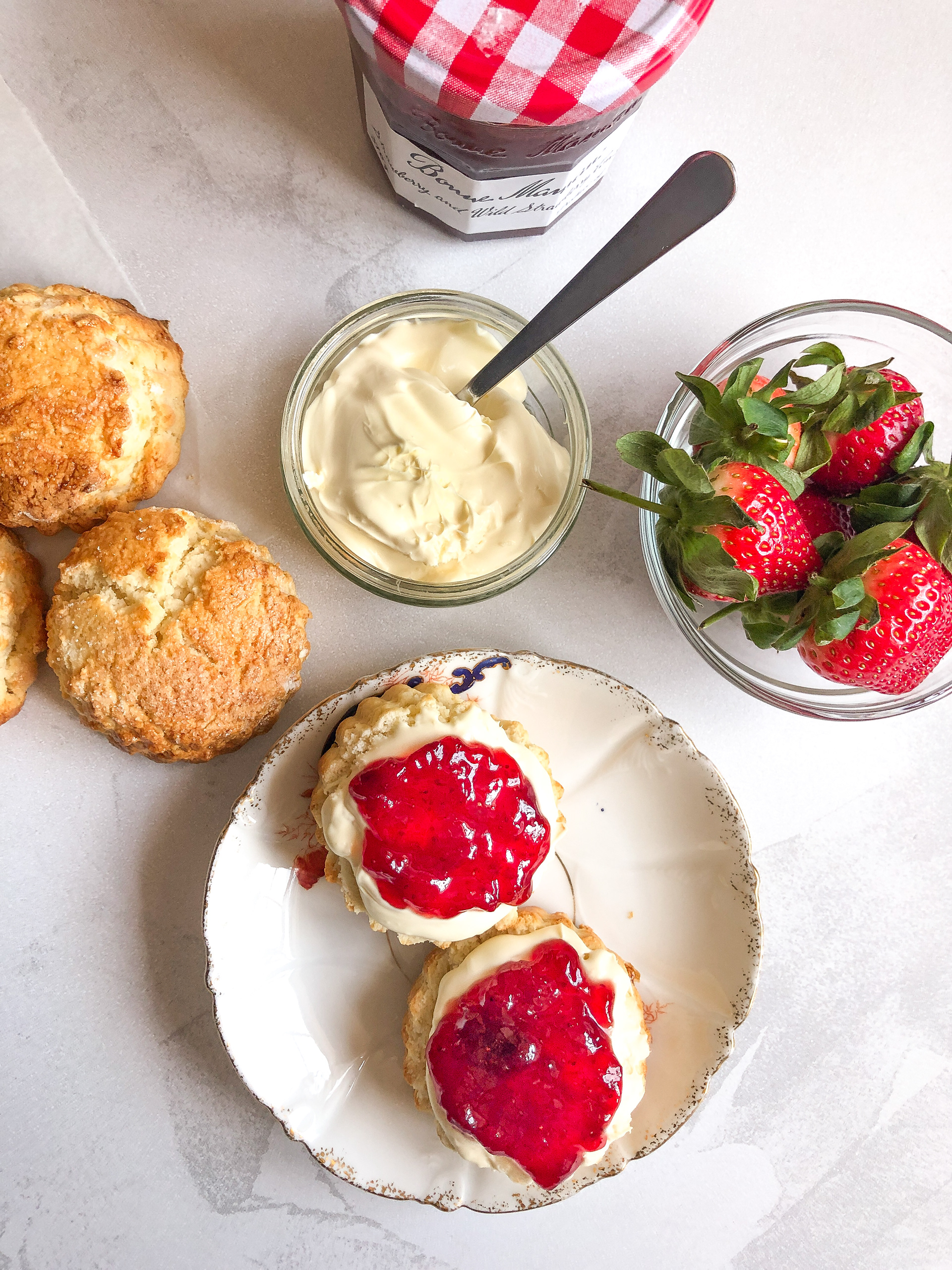 340 gramos de Harina Leudante sin tacc/premezcla para tortas.
1 tsp/cucharadita de polvo de hornear
1/4 tsp/cucharadita de Goma Xantana
85 gramos de Manteca/Margarina
4 tbsp/cucharadas soperas de azúcar rubio (fino) / Azúcar.
175 mililitros leche - leche libre de lácteos si es necesario
3 tsp/cucharaditas jugo de limon
1 tsp/cucharadita extracto de vainilla
1 huevo (no es necesario si quieren hacerlo vegano)
1) Precalentar al horno a 210 c, Calienta la leche hasta que este tibia, agrega el jugo de limon y extracto de vainilla, deja se enfrie.
2) Coloca la harina leudande/premezcla, polvo de hornear/xanthan goma en un bowl.
3) Entre dos laminas de papel manteca, aplasta la manteca hasta que quede una lamina de manteca bien pareja, enfriar y luego cortar la lamina en pedacitos. Frota la manteca contra la harina entre tus dedos hasta crear una consistencia arenosa/migas de pan.
4) Agrega el azúcar, crea un hueco en el medio de la mezcla. Agrega la leche tibia/limon/vainilla en el hueco; integra la mezcla con los líquidos gradualmente desde adentro para afuera en movimientos circulares.
5) Pon un poco de harina en la mesada y trabaja la masa hasta que este bien integrada. Moldea la masa en forma redondeada hasta que tenga de altura unos de 4 cm.
6) Cubre el molde/vaso con poco de harina y corta/empuja hacia abajo la masa.  (vuelve a amasar la masa y sigue cortando scones)
7) Pinta los scones con huevo y puedes poner un poquito de azúcar arriba para que queden más crujientes.
8) Pon los scones en una bandeja precalentada (esto hará que la parte de abajo del scone quede crujiente) y a cocínalos por 12-14 minutos, cuando este dorados arriba ya están!
9) Ahora a disfrutar! Agrégale un poco de crema y mermelada de frutilla para más sabor!
10) Guárdalos a temperatura ambiente - bien envueltos o adentro de un tupper por unos 3 días! Puedes recalentarlos en el horno por unos 5 min si es necesario!