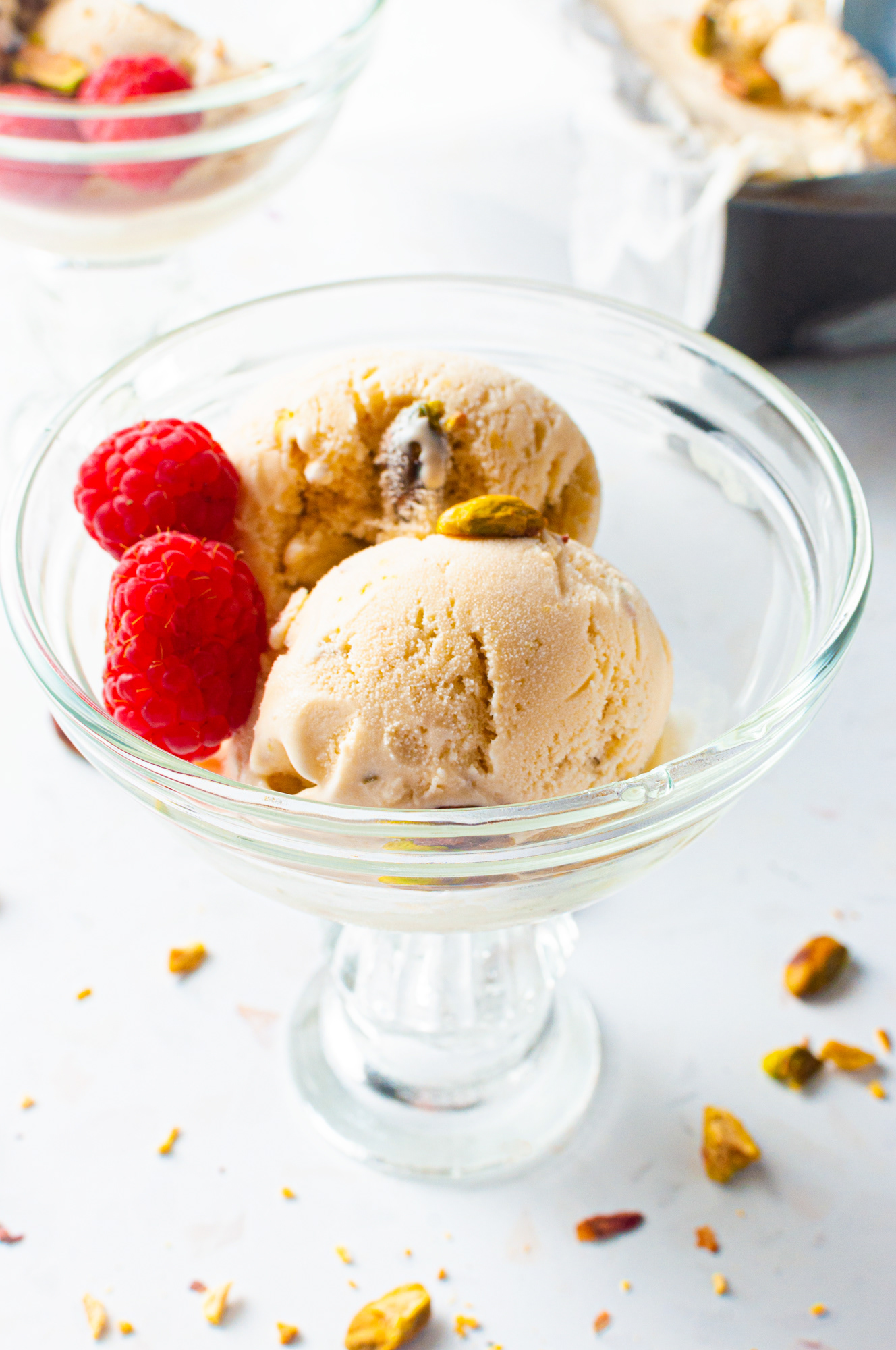 200g of pistachios (you can use less if you think it's too much)
2 cups of milk (preferably whole milk)
1 tbsp of vanilla extract
1/4 tsp of almond extract 
Step 1: Chop half of the pistachio nuts, add it to a bowl and add 2/4 of the sugar. Place a pan over low heat, add the 2 cups of milk, the sugar and pistachio mixture, vanilla and almond extract, let it simmer. 
Step 2: In the meantime place whisk 4 egg yolks and 1/4 of sugar in a bowl until you get a creamy consistency, it will also look paler. 
Step 3: When you notice really small foam like bubbles on the side of the pan mean the milk is ready. Add a tiny bit of liquid to the eggs and whisk, do it for at least 3 times, then you can add the rest of the milk to the bowl. (we are doing this is for the simple reason the milk is way too hot so if we pour all the mixture into the bowl we are going to cook the yolks this way we are slowly adding temperature to the mixture)
Step 4: Return it to the pan, cook it over low heat until thick (at least 10 min) do not boil it, stir constantly. Chill until cold. (Pour it into a container and take it to the fridge)
Step 5: Once chilled add the 1 cup of heavy cream and place all the mixture into your ice cream maker (this could take from 35 to 50 min) mine took 35 min, half way through I added the rest of the pistachios. Place the mixture in a bowl / tin / Tupperware and freeze it. Done!! Enjoy!!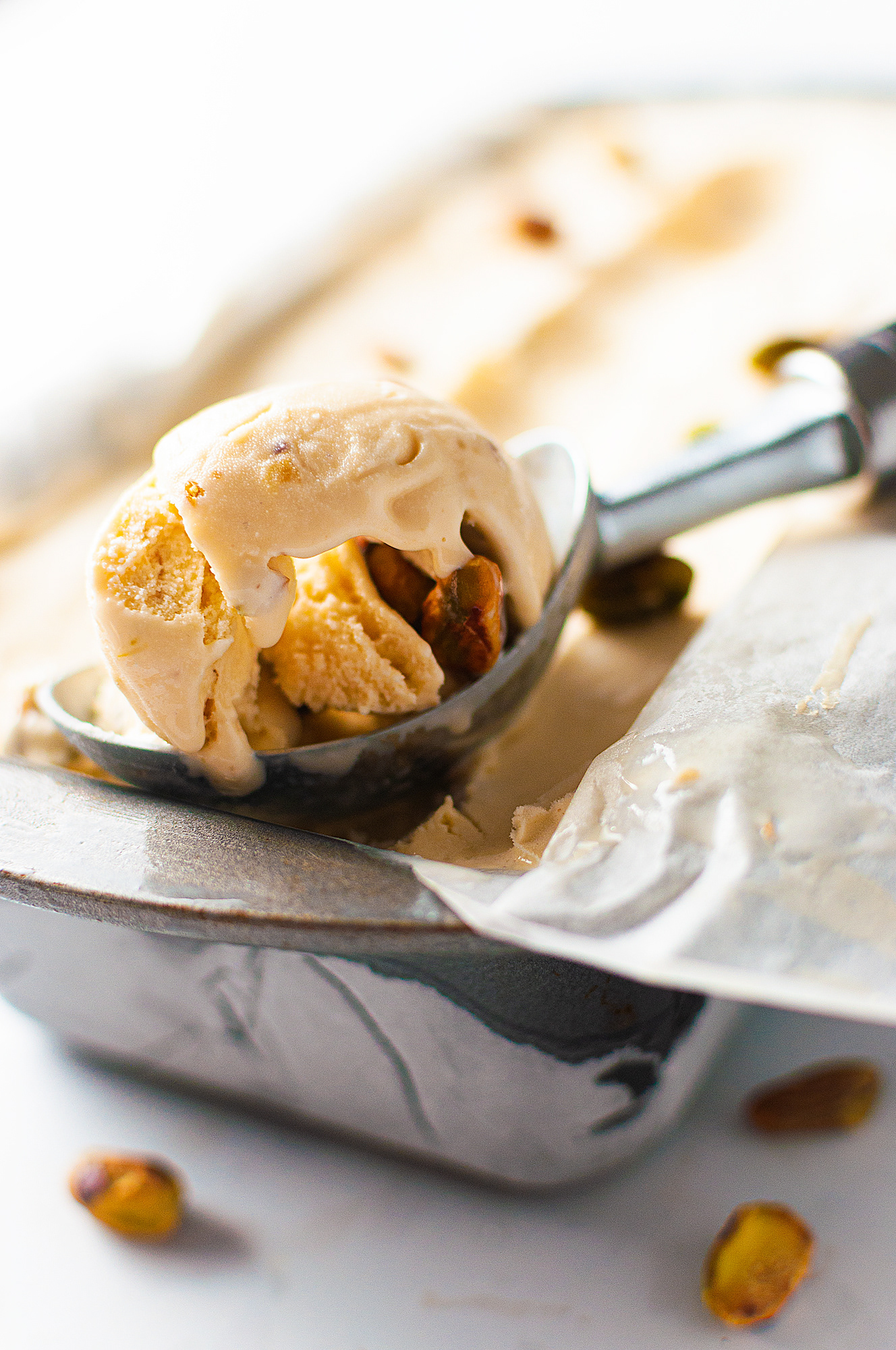 200g de pistachio (podes usar menos si sentis que es mucho)
1 taza de crema clásica para batir 
1 cucharada de extracto de vainilla
1/4 de extracto de almendras 
Paso 1: Picar la mitad de los pistachios y llevarlos a un bowl. Agregar 2/4 de azúcar. Agarrar una olla y en fuego bajo agregar las 2 tazas de leche, los pistachios con azúcar y los extractos de vainilla y almendra. Dejar que casi hierva a fuego lento.
Paso 2: Mientras la leche se esta calentando, batir las 4 yemas de huevo y el azúcar restante (1/4) hasta crear una consistencia cremosa y pálida. 
Paso 3: Cuando notes que al rededor de la olla se están formando burbujas muy chiquitas casi como un borde de espuma significa que la leche ya esta! Agregamos unas cucharadas de la leche a las yemas, estamos templando la mezcla. Una vez que ya esta templado agregar todo el contenido de la leche y mezclar.
Paso 4: Llevar la mezcla de nuevo a la olla y cocinar a fuego bajo hasta que se espese (alrededor de unos 10 min). Batir constantemente, no dejes que hierva!. Dejar que se enfríe por completo (llevar a la heladera).
Paso 5: Una vez que este frio, agregar la taza de crema para batir y mezclar. Llevar la mezcla a la maquina de helado por 35 a 50 minutos. (El mio estuvo listo en 35 min) A la mitad del tiempo agregar los pistachos restantes.  Transferir el helado a un tupir, bandeja, etc y llevarlo al freezer! Listo!! A disfrutar.