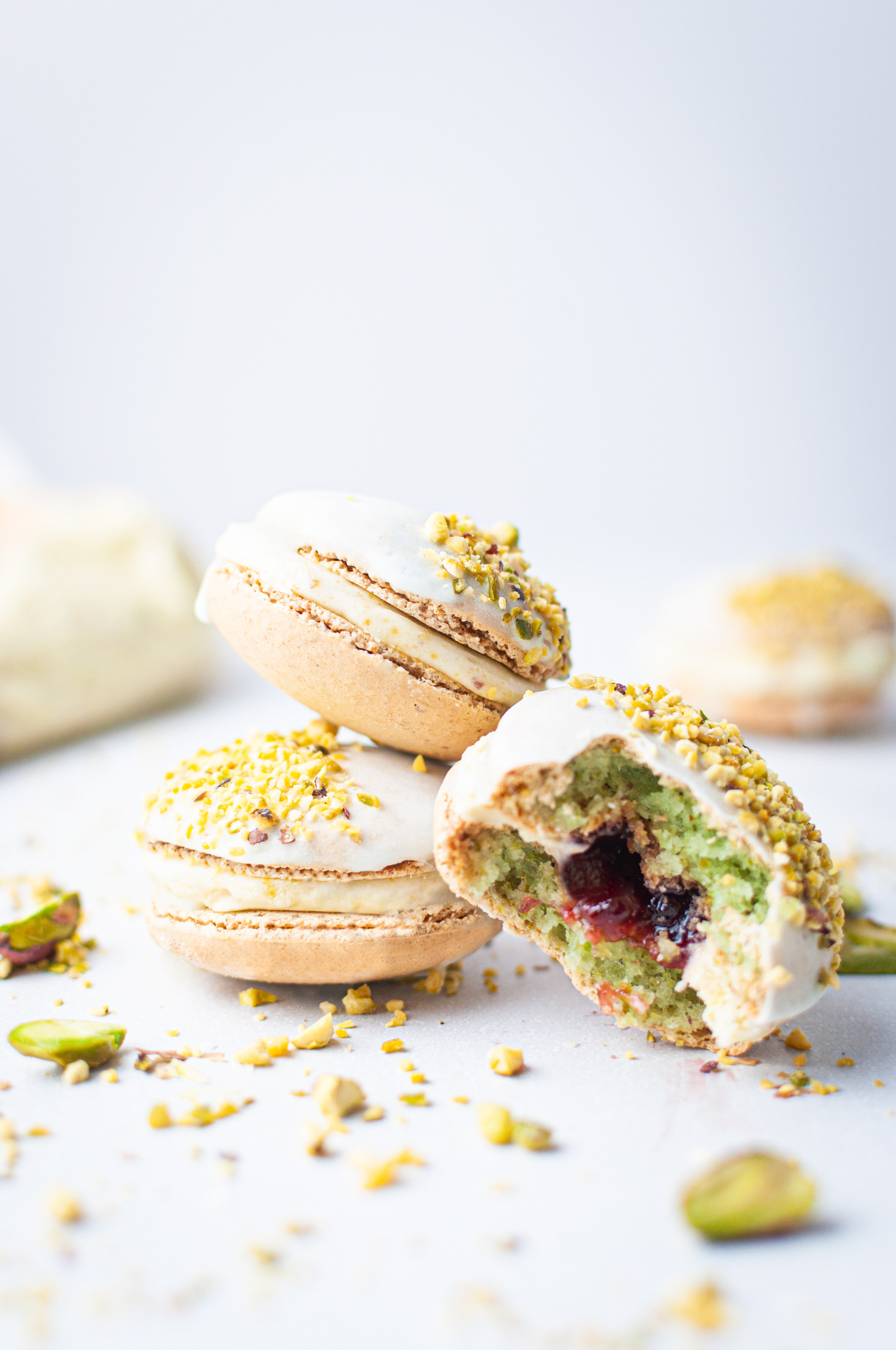 Please follow the Cupcake Jemma recipe as her recipe is the best one!!
I only modified her recipe a little bit to create a pistachio macaron, instead of 190g of ground almonds place 160g and 30g of pistachio flour. The filling: cream cheese pistachio and raspberry jam in the middle.
Place the pistachios in a food processor and pulse until you get a breadcrumb consistency, do not over do it as the pistachio could release some oils.
Pistachio cream cheese filling
Combine the butter and cream cheese until well combined, slowly add the icing sugar and mix it on low, add the pistachio flour and vanilla extract, mix it well until you get a nice smooth cream (2 min tops).
Por favor sigan el video de Cupcake Jemma donde explica cómo hacer macaron ya que su receta es la mejor de todas.
Solo modifique una parte de la receta para hacer de pistachio usando 160g de almendras y 30g de harina de pistacho. El relleno: Queso crema de pistachio con mermelada de frambuesa en el medio. 
Agregar los pistachios en una procesadora y pulsar hasta crear una una constancia de migas de pan, no lo pulses mucho ya que los pistachios pueden largar aceite!
Relleno de queso crema de Pistachio:
1 taza de azúcar impalpable
1/2 cucharadita de esencia de vanilla.
Combinar la manteca y el queso crema hasta que este integrado, despacio agregar el azúcar impalpable y mezcla en bajo, agregar la harina de pistacho y extracto de vainilla. Mezclar bien hasta formar una crema suave (al rededor de 2 minutos)