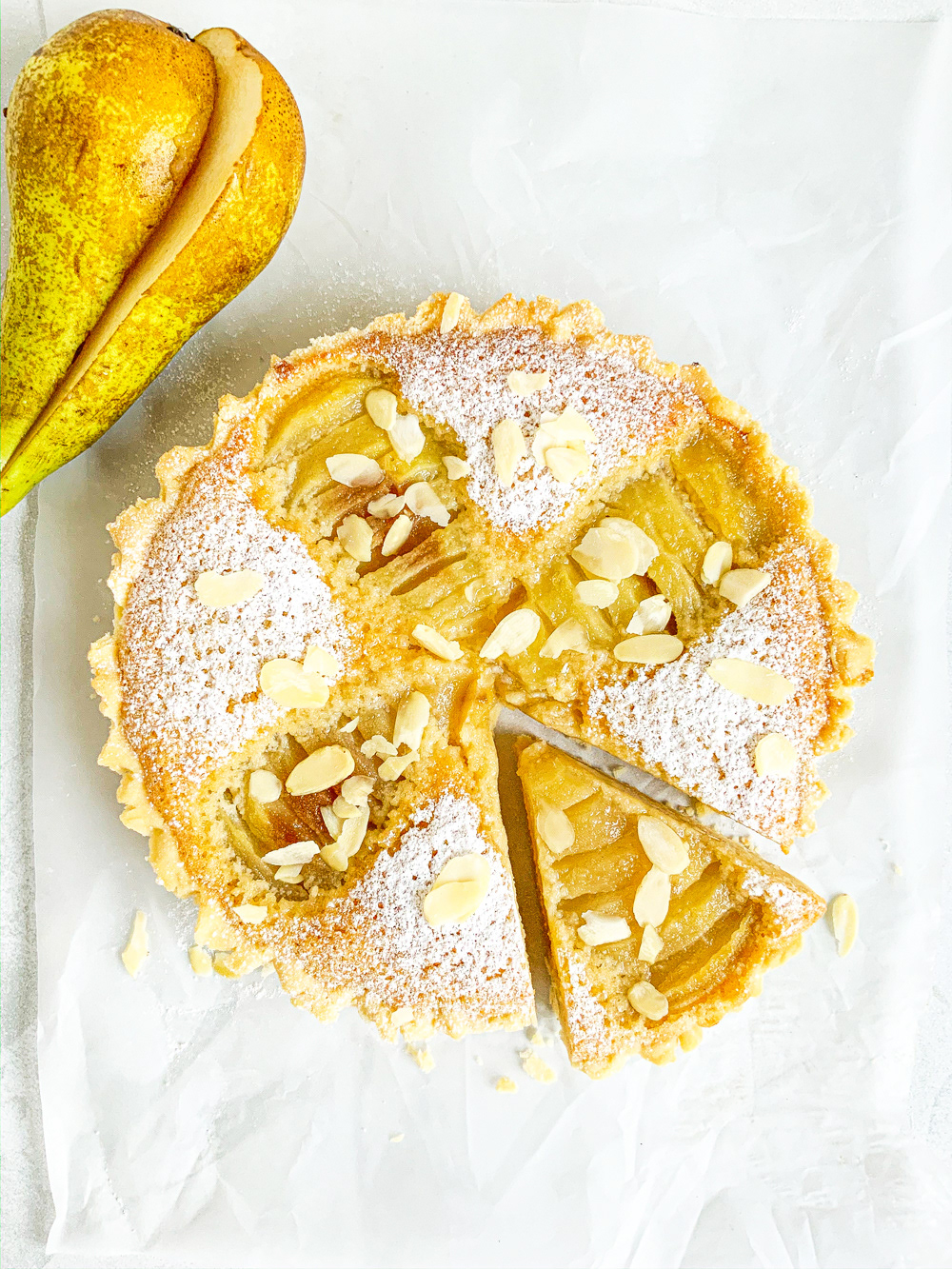 57 grams unsalted butter, softened
57 grams granulated sugar
7 grams of GF plain flour
1/2 teaspoon vanilla extract
75 grams of cold unsalted butter
100 grams granulated sugar
Water to cover the pears
.
1) In a bowl place the GF flour, icing sugar, xanthan gum, pinch of salt. Whisk it. Add the cold unsalted butter, add it to the flour mix. Rub it between your fingers, we are looking for a breadcrumb/sandy consistency. Finally add the water, mix it well.
2) Dust your work station with GF flour and work the dough a few times to bring it together. Cool it down for at least an hour and a half. Once chilled roll the dough out and carefully transfer it to the tart tin, don't worry if it cracks, you can just press it and push it down! Pre-heat the oven to 190 C (fan), blind bake it for 20 min, remove the weights and bake it for at least another 10/15 min until the tart is lightly golden and cooked through. Leave it to cool down.
1) Combine water, vanilla extract and sugar in a pot, place over medium heat and bring to a simmer until the sugar has completely dissolved.
2) Peel the pears, cut them in half and remove the core. Gently place the pears into the pot and let them poach for 15 minutes or until tender. Let them cool down in the poaching liquid.
1) Combine sugar and butter in a bowl, using a mixer beat it until creamy. Add the almond flour, egg and beat it over low speed. Add the flour, vanilla extract and combine. Refrigerate until ready.
1) Fill the pre-baked tart with the almond filling. Place the poached pears (which should be drained before, use paper towels to soak the remaining excess) on top of it and bake it for 30 min at 190 c (fan) or until golden brown.
You can also serve it with some ice cream o whipping cream!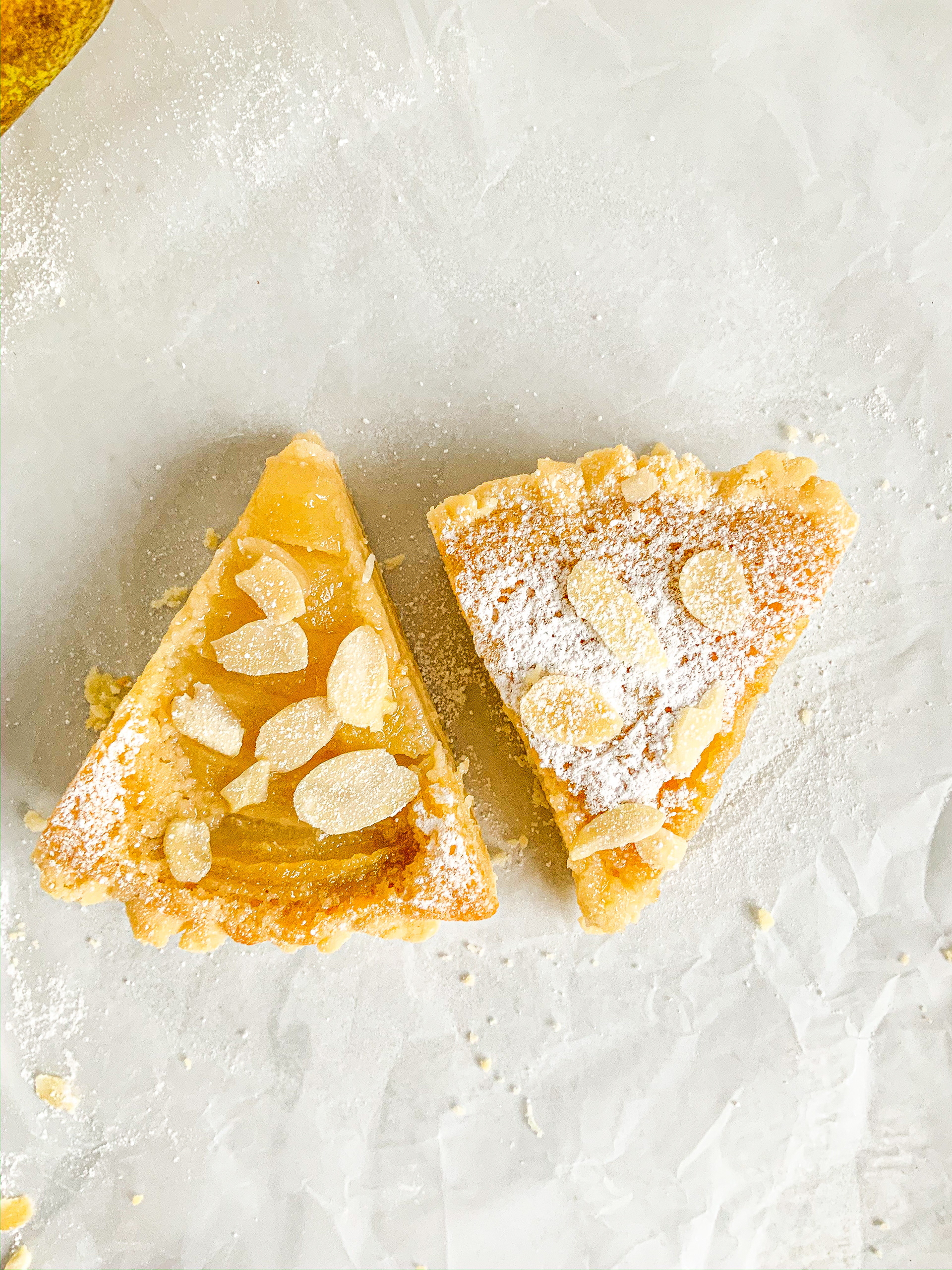 57 gramos de manteca, temperatura ambiente
57 gramos de harina de almendra
7 gramos de harina sin tacc, premezcla
1/2 teaspoon extracto de vainilla
112 gramos  harina sin tacc, premezcla
1 tbsp azúcar impalpable.   
75 gramos de manteca (fria)
1/2 tsp esencia de vainilla
Agua para cubrir las peras.
1) En un bowl agregar la harina, el azúcar impalpable, sal y goma xantana. Mezclar bien. Agregar la manteca fria a la mezcla. Frotar la manteca contra la harina entre tus dedos hasta crear una consistencia arenosa/migas de pan. Agregar el agua.
2) Pon un poco de harina en la mesada y trabaja la masa hasta que este bien integrada. Dejar enfriar hasta por lo menos una hora y media. Una vez fría, estirarla y cubrir con cuidado el molde de la tarta, no te preocupes si se rompe podes juntarla y apretar la masa de nuevo! Pre calentar el horno a 190 C (fan) y cocinar a ciegas la tarta por unos 20 min, remover las pesas y seguir cocinando por otros 10/15 min o hasta que este dorado.
1)Poner el agua, el azúcar y esencia de vainilla en una olla y llevar a hervor hasta que el azúcar se  haya desintegrado por completo.
2) Pelar las peras, cortarlas por la mitad, sacar el carozo y colocarlas con cuidado en la olla. Cocinarlas por 15 min o hasta que estén blandas. Dejar que se enfríen en el jugo.
1) Batir el azúcar y la manteca hasta consistencia cremosa. Agregar la harina de almendras, el huevo y batir. Agregar la harina, esencia de vainilla y mezclar. Refrigerar la mezcla hasta que este listo.
1) Rellenar la masa de la tarta, con el relleno de almendras y colocar las peras arriba del relleno. (primero hay que secarlas con papel de cocina).  Cocinar a 190 c (fan) por 30 min o hasta que este dorado arriba.
Podes servirlo con helado o crema!!