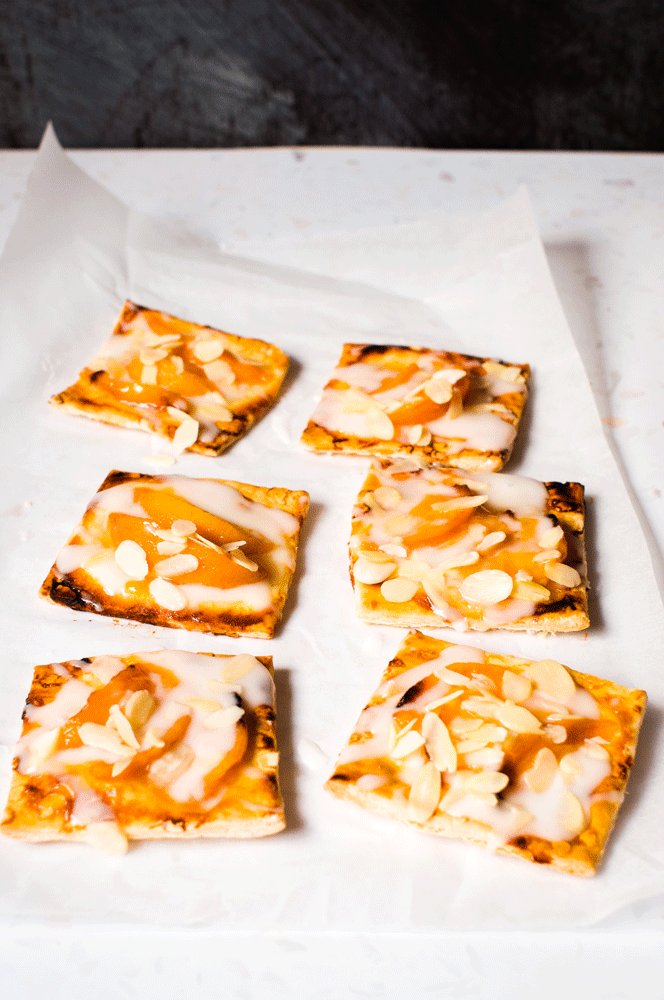 3 peaches or 1 tin of canned peaches
1 tbsp milk/water/lemon juice, more if desired.
1) Preheat the oven 190 c (fan), Roll puff pastry and cut it on equal squares.
2) In a bowl add the peach slices,  vanilla extract, cinnamon, granulated sugar and GF flour, make sure all the peaches are coated.
3) Place the peaches in the middle of the squares, 2 or 3 slices. Brush the edges of the pastry with the beaten egg.
4) Bake for 15 min or until golden brown. Do not over bake. Let it cool down
1) In a bowl add the 1/2 cup of icing sugar, milk/water/lemon and vanilla extract. Mix it until well combined. Drizzle the pastries!
Masa sin tacc de hojaldre
3 duraznos o una lata de duraznos
1/2 cucharadita de esencia de vainilla
Media cucharada de harina sic tacc
Un cuarto de cucharadita de canela/ una pizca.
Media taza de azúcar impalpable
Media cucharadita de esencia de vainilla
1 cucharada de leche/agua/limon, si es necesario agregar más.
1) Pre calentar el horno a 190 c(fan), abrir la masa y cortarla en cuadraditos iguales.
2) En un bowl agregar el durazno, azúcar, esencia de vainilla, canela y harina sin tacc, asegúrate que todos los duraznos tengan jugo!
3) Poner dos/tres rodajas de durazno en el medio de la masa, pintar los bordes de la masa con huevo.
4) Cocinar por 15 min o hasta que estén dorados, cuidado no los quemes!! Dejar enfriar.
1) Mezclar en un bowl, el azúcar, leche/agua/limón y esencia de vainilla. Batir hasta que este todo incorporado. Bañar los cuadraditos!