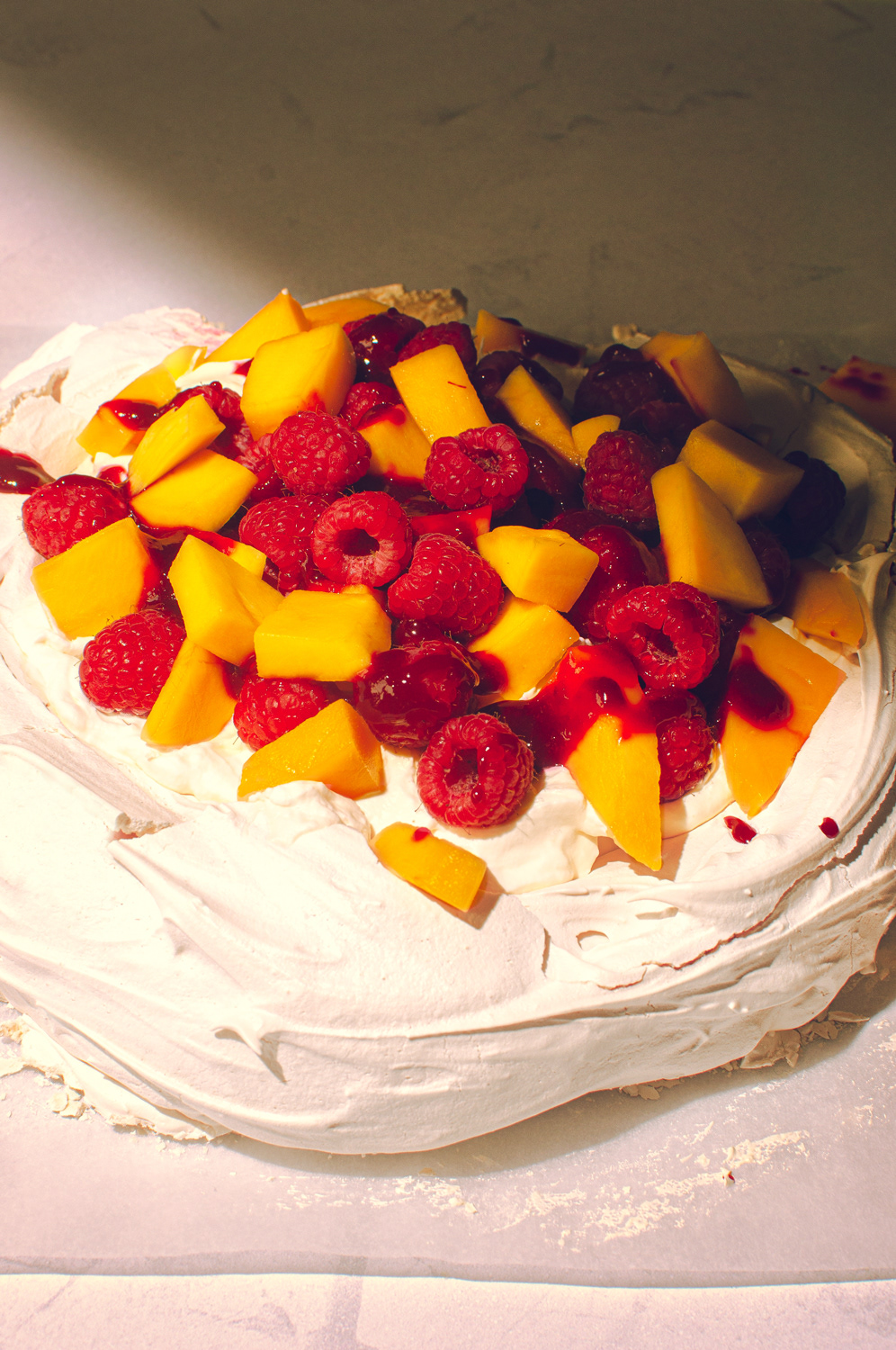 4 egg whites room temperature
1/4 tsp cream of tartar / 1 tsp of white vinegar if you don't have cream of tartar
1 cup or 250 ml of double cream
1/2 tsp of vanilla extract (if desired)
Before you start: clean the bowl of your mixer + whisk attachment, this is VERY important it should be grease free! Clean it with some vinegar.
Step 1: Separate the egg Yolks from egg whites (we could use the egg yolks for another recipe, maybe custard? That's what I've done as I looooove custard) set aside. On another bowl place the sugar with the cornflour, mix it well.
Step 2: Add the egg whites into a bowl, add the cream of tartar and in low speed start to mix it together, increase the speed up to medium, once you notice small bubbles start adding the sugar, one spoon at a time, slow and steady (this is IMPORTANT as we do not want to deflate the meringue). Once that's all done on a high speed combine until all the granules of sugar have disappeared (to check rub it between your fingers), this will take at least 12/15 minutes, you are looking for glossy, very white and with small picks consistency.
Step 3: Place the merengue mixture into the center of a greaseproof paper tray and with a spoon start creating a hole in the middle, we are trying to create some sort of a well.
Step 4: Bake it for an hour in a 135 c (fan) preheated oven, 275 F, Gas 1. Once it's done please leave it to cool down inside the oven for at least an hour, 2 would be even better!
Add the cup of cream, icing sugar and vanilla extract (if desired) into a bowl and whisk it until soft picks, (roughly 4/5 minutes).
Once your cream it's done, grab the meringue, add the cream inside the well, top it with the fruits of your liking.
4 claras de huevo a temperatura ambiente
1 1/2 cucharaditas de maizena
1/4 cucharadita de cremor tártaro / o 1 cucharadita de vinagre blanco si no tenes cremor tártaro
1 cucharada de azúcar impalpable
1/2 cucharadita de esencia de vainilla (si queres)
Antes de empezar limpia el bowl y el batidor con vinagre blanco para sacar toda la grasa, no tiene que tener nada de grasa!
Paso 1: Separar las claras de las yemas, (pueden utilizar las yemas para otra receta, capaz para una crema pastelera? Eso es lo que yo hice ya que AMO la crema pastelera) dejarlo a un costado. En otro bowl agregar el azúcar y la maizena, mezclarlo bien.
Paso 2: Agregar las claras en un bowl, agregar cremor tártaro o vinagre. En velocidad minima empezar a mezclar, subir la velocidad y cuando empezas a ver burbujas agregar el azúcar, una cucharada a la vez, de a poquito!!. Una vez que este el azúcar este incorporada subir la velocidad, combinar hasta que los granos de azúcar hayan desaparecido (para darte cuenta frota un poquito del merengue entre tus dedos), tardara al rededor de 12/15 minutos, estamos buscando una consistencia brillosa, bien blanca y que se puedan generar piquitos al tocarlo.
Paso 3: Poner el merengue en el centro de una bandeja con papel manteca y con una cuchara empezar a distribuir el merengue desde adentro para afuera, tenemos que generar un hueco con paredes alrededor (tipo un pozo/fuente) las paredes evitaran que la crema se corra y que se quede en el centro!
Paso 4: Cocinar el merengue por una hora a 135 grados (fan), 275 f, gas 1, lento pero seguro. Una vez que ya este, dejar que se enfríe adentro del horno por lo menos una hora, dos horas es mucho mejor!
Agregar la taza de crema y el azúcar impalpable, (vainilla si te gusta) en un bowl y batir hasta que se generen picos suaves (4/5 minutos como mucho).
Una vez que el merengue ya este frio, agregar la crema en el hueco que creamos anteriormente, agregar la fruta que te guste arriba!