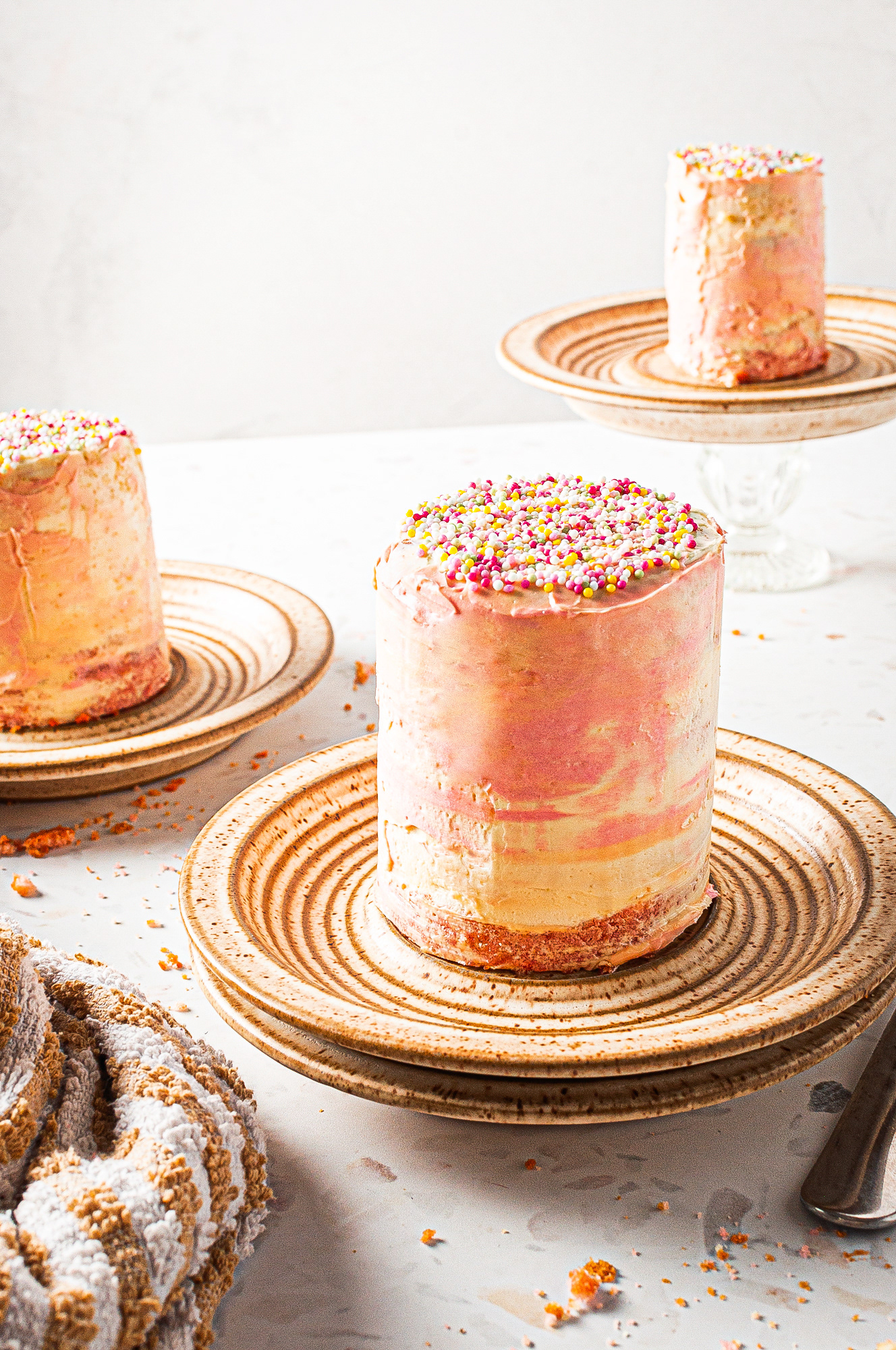 250g Gluten free self raising flour
Step 1: In a mixing bowl add thee 250g of sugar, 250g unsalted butter and mix until you get a fluffy pale consistency (at least 5 min) you can use a stand mixer or a hand mixer whatever you have with you.
Step 2: Add one egg at a time, let it combine first then add the other one, etc. You will get a smooth silky mixture.
Step 3: Once that's all combined you are going to sieve the GF self raising flour, baking powder and salt. Slowly combine.
NOTE: If you want to dye your cake please add the food colouring to the milk also add the vanilla extract.
Step 4: Add the milk into the mixture and combine until everything is very well incorporated.
Step 5: Divide the mixture into equal parts and place them into a baking cake tin. (Mine was 7 inches) and Bake it for 20 min at 180 (fan) or until a toothpick inserted into the center comes out clean.
56g of cold unsalted butter
Step 1: Whisk the 3 egg yolks and the sugar until you get a pale and creamy consistency. Add the passion fruit and lime juice this will be roughly 1/4 cup. (previously peel the passion fruit and sieve all the juice, same process with the lime) whisk it.
Step 2: Heat on low whisking constantly until it thickens. (you will also start seeing bubbles forming around the pan)
Step 3: Remove from heat and add the butter which you need to cut into little cubes, this will bring the temp down and create a silky finish.
Step 4: Strain the curd and place it straight to the fridge covering the curd with plastic film, this needs to touch the surface of the curd to prevent a skin from forming, let it cool completely.
3 egg whites / yemas de huevo
227g of unsalted butter / manteca
1/s tsp of vanilla extract  / esencia de vanilla
Less than 1/4 tsp of cream of tartar /  cremor tártaro
I am using John's Kanell recipe! Please follow his video for instructions!, I will write it in Spanish!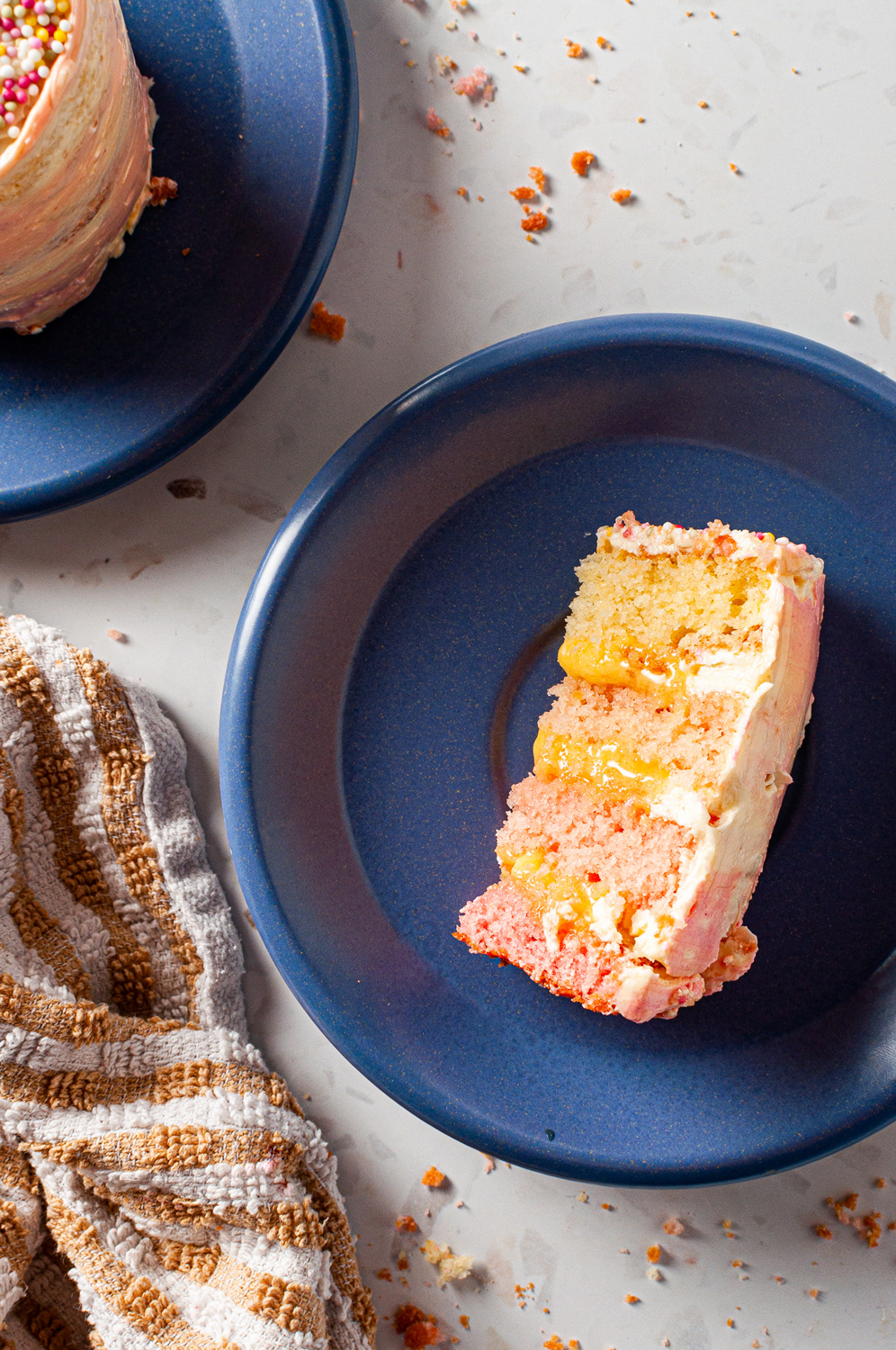 250g Harina leudan sin tacc - premezlca
250g Manteca
250g azúcar
1 cucharita de polvo de hornear
1/2 cucharadita de sal
1 cucharada de esencia de vainilla
4 huevos
40 ml de leche
Paso 1: Batir la manteca y el azúcar hasta tener una constancia cremosa y pálida (5 minutos aprox).
Paso 2: Agregar un huevo a la vez, mezclar uno y agregar el otro. Vas a tener una consistencia cremosa y sedosa.
Paso 3: Una vez que todo este incorporado agregar la harina leudan sin tacc, polvo de honrar, sal. Combinar despacio.
NOTA: Si queres teñir la torta de colores agrega el colorante en la leche y el extracto de vanilla.
Paso 4: Agrega la leche a la mezcla y combina hasta que todo esté muy bien incorporado.
Paso 5: Divide la mezcla en partes iguales y colócalas en un molde para hornear. (El mío era de 7 pulgadas) y hornee por 20 min a 180 (ventilador) o hasta que un palillo insertado en el centro salga limpio.
Crema de Maracuyá y Lima.
3 maracuyá
1 lima
3 yemas de huevo
56 g de mantequilla fría
100 g de azúcar
Paso 1: Batir las 3 yemas de huevo y el azúcar hasta obtener una consistencia pálida y cremosa. Agregue el maracuyá y el jugo de lima, esto será aproximadamente 1/4 de taza. (previamente pelar la maracuyá y colar todo el jugo, mismo proceso con la lima) batir.
Paso 2: Calentar a fuego lento batiendo constantemente hasta que espese. (también comenzará a ver que se forman burbujas alrededor de la sartén)
Paso 3: Retira del fuego y agregue la mantequilla que necesita cortar en cubos pequeños, esto bajará la temperatura y creará un acabado sedoso.
Paso 4: Cuela la crema y colócala directamente en el frigorífico cubriendo la cuajada con una película plástica, esta necesita tocar la superficie de la cuajada para evitar que se forme una piel, déjala enfriar por completo.
Ingredientes:
3 egg whites / yemas de huevo
133g of sugar / Azucar
A pinch of salt / sal
227g of unsalted butter / manteca
1/s tsp of vanilla extract  / esencia de vanilla
Less than 1/4 tsp of cream of tartar /  cremor tártaro
39 ml of water / aqua
Paso 1: Batir las caras de huevo, el cremor tártaro y sal. Agregar muy muy despacio 33g de azúcar (casi como una llovizna de azúcar) y seguir batiendo hasta que se creen picos suaves.
Paso 2: Mientras las yemas de esta batiendo, agregar los 100g y el agua en una sartén, batir hasta que toda el azúcar este cubierto y llevarlo a fuego medio.
Paso 3: Mantener a fuego medio hasta que llegue a una temp 115 grados C.
Paso 4:  Rociar el azúcar en las yemas batidas. A este punto ya se debió haber creado un merengue con picos suaves.
Paso 5: Seguir batiendo hasta que el merengue este frio, podes tocar el bowl también y darte cuenta. Esto serán unos 10 min.
Paso 6: Agregar la manteca cortada en cubos una cucharada a la vez. Agregar esencia de vanilla.
Paso 7: Batir hasta que todos este bien integrado y tengas un frosting super liviano y suave. 
 Saludos, 
Lucy