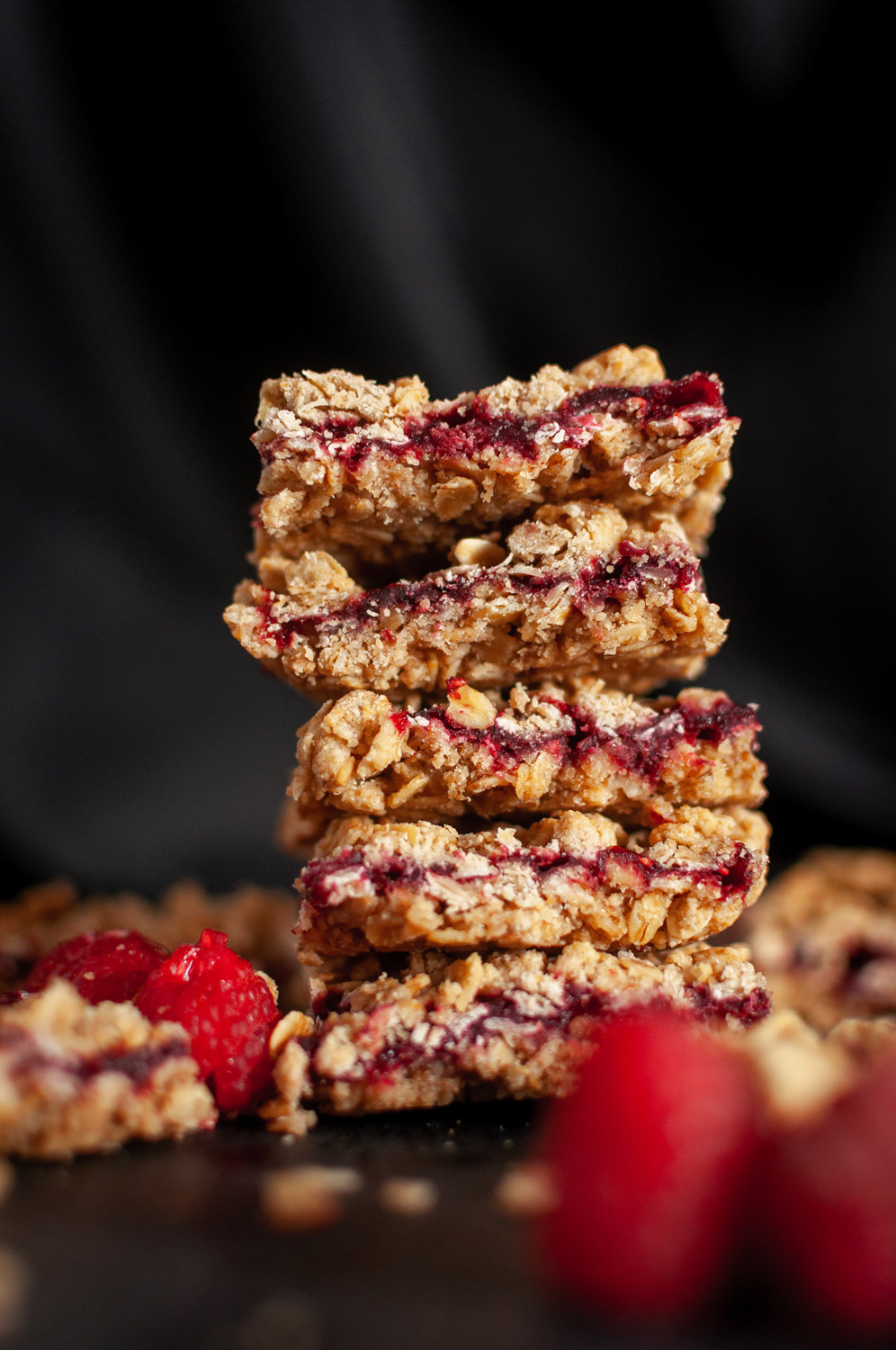 150g of Oat flour (if you don't have oat flour just pour some oats into a blender, mix and that's it!)
113g of melted butter/vegan butter/coconut oil
200g Raspberry Jam/ Raspberry goo (cupcake Jemma recipe)
Step 1: Pre heat the oven 180c/350f/160c (fan). In a bowl mix the oat flour, oats, sugar, baking powder and sal, combine. Add the melted butter  and mix it until combined.
Step 2: Separate 1/3 of the mixture and set aside. Place the 2/3 of the mixture into the baking tin you are using (use greaseproof paper as it will be easier to remove the bars), push it with your fingers to ensure all the mixture is together and forms a crust.
Step 3: Add the raspberry jam/raspberry goo into the oat crust, Add the remaining 1/3 of the mixture on top.
Step 4: Bake it for 25/30 minutes. The next part is very important: LEAVE IT TO COOL DOWN COMPLETELY, if you try to cut the bars or even try to remove them from the baking dish before they are completely cooled they are going to break! Leave it to cool down for at least an hour! Yes I know it sucks but trust me on this one. You can put it in the fridge to speed the process.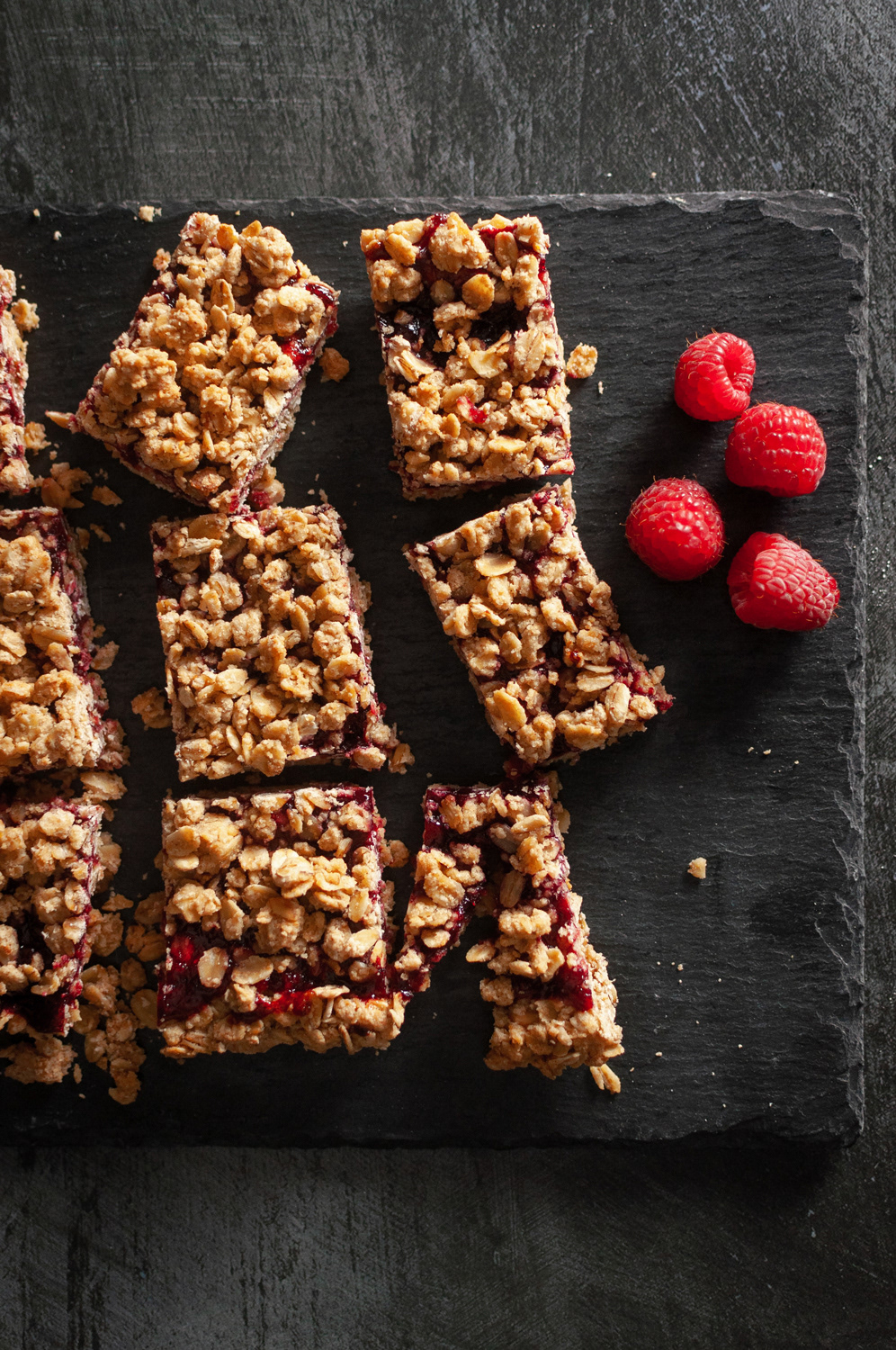 150g de Harina de Avena (si no tenes harina de Avena, solo agregar avena a una licuadora y listo!!)
1 cucharadita de polvo de hornear
113g de manteca derretida
200g de mermelada de frambuesa o pure/pulpa de frambuesa (receta del canal Cupcake Jemma)
Paso 1: Precalentar el horno a 180c/350f/160c (fan). En un bowl mezclar la harina de avena, avena, azúcar, polvo de hornear y sal, combinar. Agregar la manteca derretida y mezclar hasta que todo este combinado.
Paso 2: Separar 1/3 de la mezcla y dejarlo a un costado. Usar el 2/3 de la mezcla, agregar la mezcla en la bandeja que vas a usar (usa papel manteca ya que sera mas facil poder sacar las barritas después), empujar la mezcla con tus dedos hasta que se cree un piso.
Paso 3: Agregar la mermelada, agregar por arriba el 1/3 de la mezcla que habíamos guardado.
Paso 4: Cocinarlo por 25-30 min . El siguiente paso es muy importante: DEJAR QUE SE ENFRIE POR COMPLETO, si tratas de cortar o sacar las barras de la bandeja se VAN A QUEBRAR. Dejar que se enfríe por lo menos una hora, si ya se no es lo ideal pero créeme tiene que ser asi. Podes llevarlo a la heladera para acelerar el proceso.
Ahora sí, a comer!! Yummy.