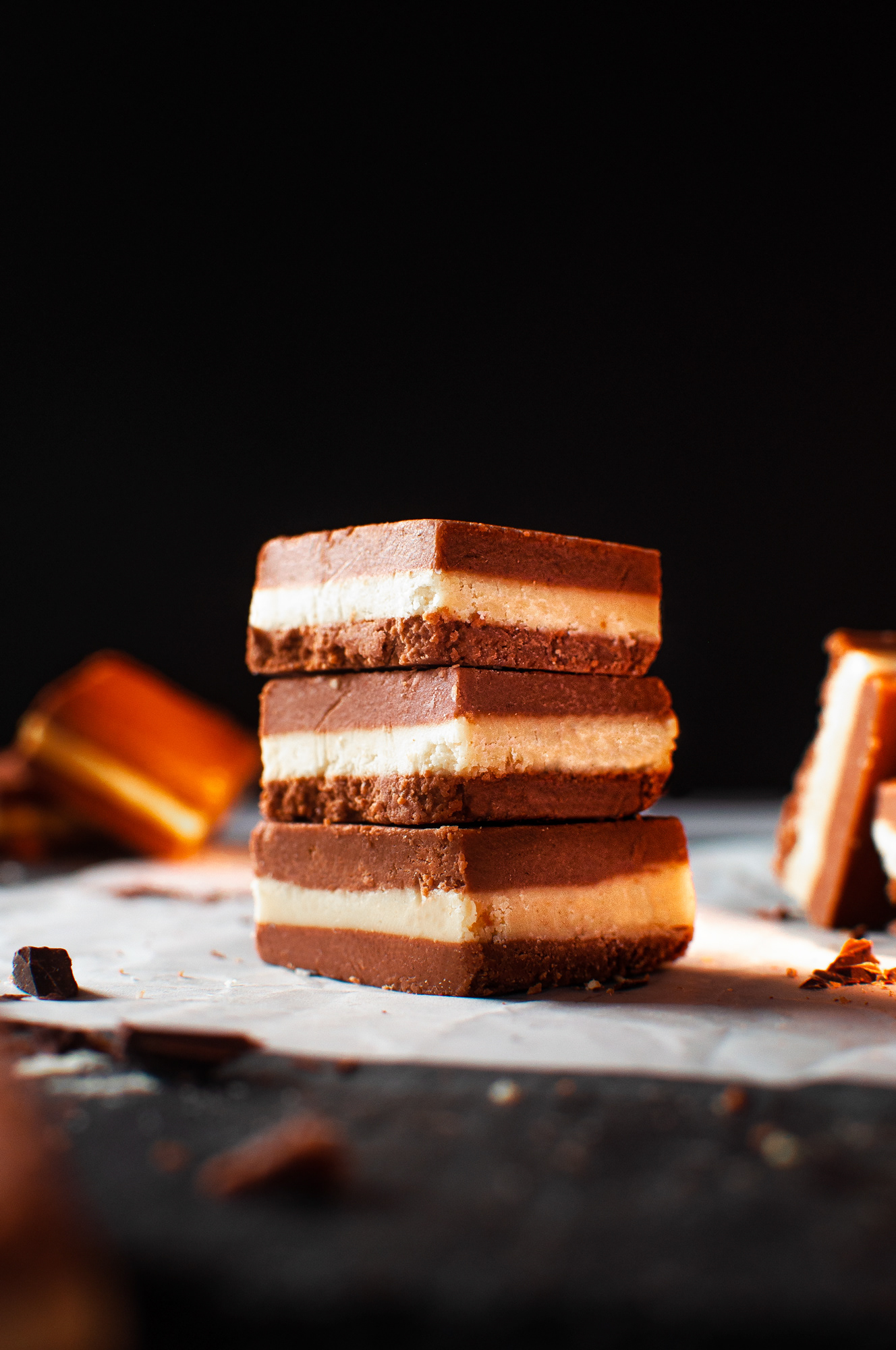 200g milk chocolate/ dark chocolate
3 tablespoons of peanut butter
Step 1: Melt 100g milk chocolate (microwave it for 30 second, stir, another 30 seconds if necessary) add 1 tablespoon of peanut butter, combine. Place the first mixture in a film wrapped tin. Freeze the mixture for 5 minutes. (brownie tin)
Step 2: Same as the first step, melt 100g of white chocolate, add 1 tablespoon of peanut butter and combine.  Remove the tin from the freezer, add the white chocolate mixture on top and take it back to the freezer for 5 minutes.
Step 3: Melt 100g of milk chocolate, add the last tablespoon of peanut butter and combine. Remove the tin from the freezer again, place the mixture on top of the white chocolate. Take it to the fridge for 20 minutes and that's it.
Step 4: Remove the Marroc from the tin, cut 3cm x 3cm small squares. Enjoy!!
200g chocolate con leche/chocolate negro.
3 cucharadas de mantequilla de mani.
Paso 1: Derretir 100g de chocolate con leche en el microondas (30 segundos, revolver, otros 30 segundos si es necesario) Una vez derretido agregar una cucharada de mantequilla de mani y revolver. Agregar la mezcla en una molde previamente forrado con papel film y llevarlo al freezer por 5 min.
Paso 2: Hacemos lo mismo que el paso 1 pero con el chocolate blanco. Sacamos la mezcla del freezer y lo ponemos arriba. Llevarlo de nuevo al freezer por otros 5 minutes.
Paso 3: Lo mismo que los pasos anteriores pero con el ultimo pedazo de chocolate con leche. Sacar la mezcla, agregar arriba del chocolate blanco y llévalo a la heladera por unos 20 minutos.
Paso 4: Remover el Marroc del molde, sacarle el film, cortar cuadraditos de 3cmx3cm. A disfrutar!!