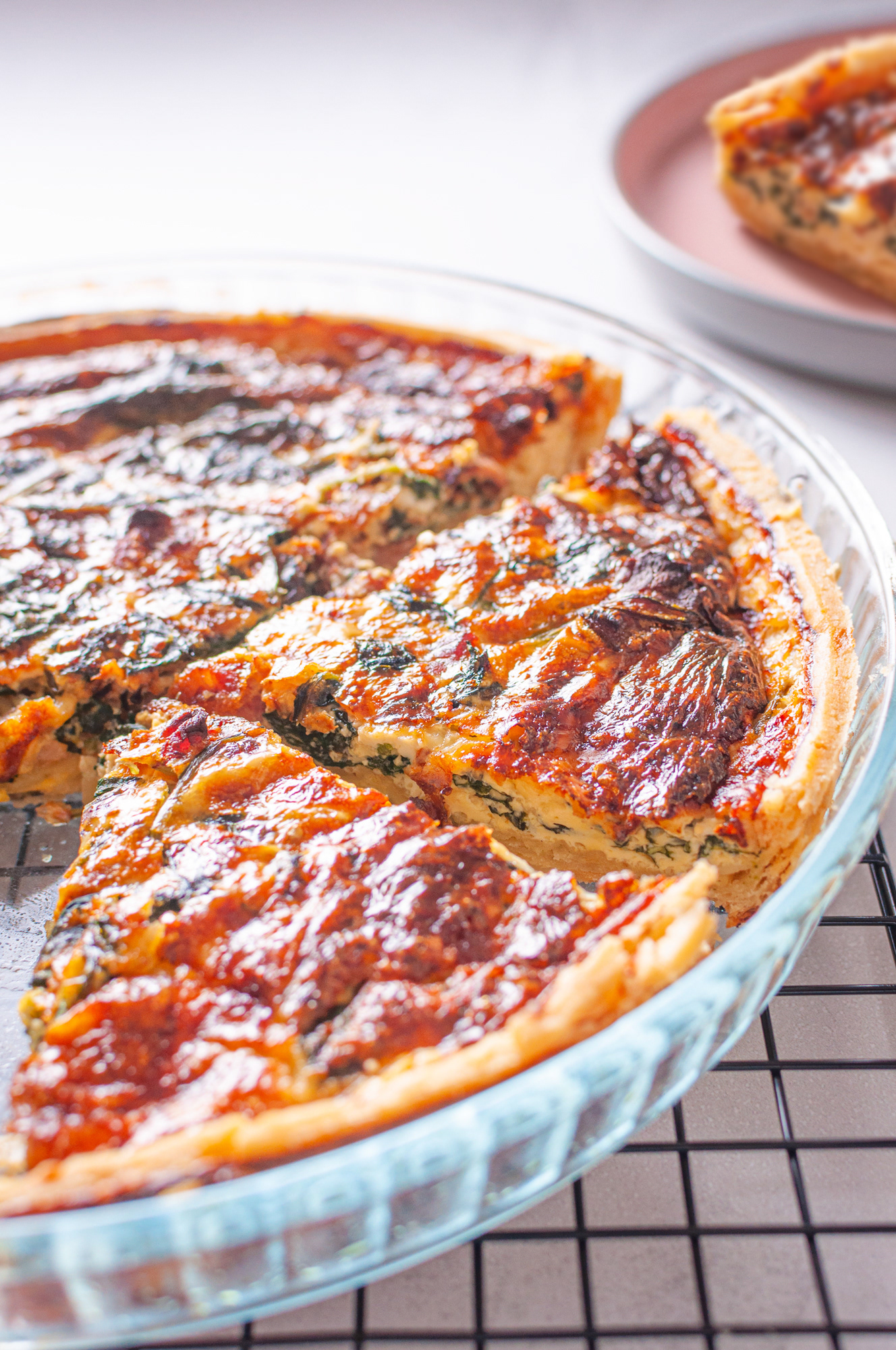 180 grams of GF plain flour
(To make it vegan replace the butter for vegan butter and add 57 ml of water instead of 37, remove the 1/2 egg).
Step 1: In a bowl combine dry ingredients, add the butter, rub it between your fingers until you get a breadcrumb consistency, add water and eggs, mix it well.
Step 2: Dust your work station with GF flour and work the dough a few times to bring it together. Cool it down for at least an hour and a half. Once chilled roll the dough out and carefully transfer it to the tart tin, don't worry if it cracks, you can just press it and push it down! Pre-heat the oven to 190 C (fan), blind bake it for 20 min, remove the weights and bake it for at least another 10/15 min until the tart is lightly golden and cooked through. Leave it to cool down.
2 slices of bacon chopped
Step 1: Heat up the olive oil and sauté the chopped onion + garlic until softened. Add the bacon strips and spinach. In a bowl mix the eggs, heavy cream, milk, whisk until combined, add a pinch of black pepper.
Step 2: Add the bacon, spinach to the cream mixture. Add the filling to your shortcrust pastry. Cook it for 40 min at 180 c (fan)
Step 3: Cook it for 40 min at 180 c (fan). Cool it down for 10 minutes and enjoy!!!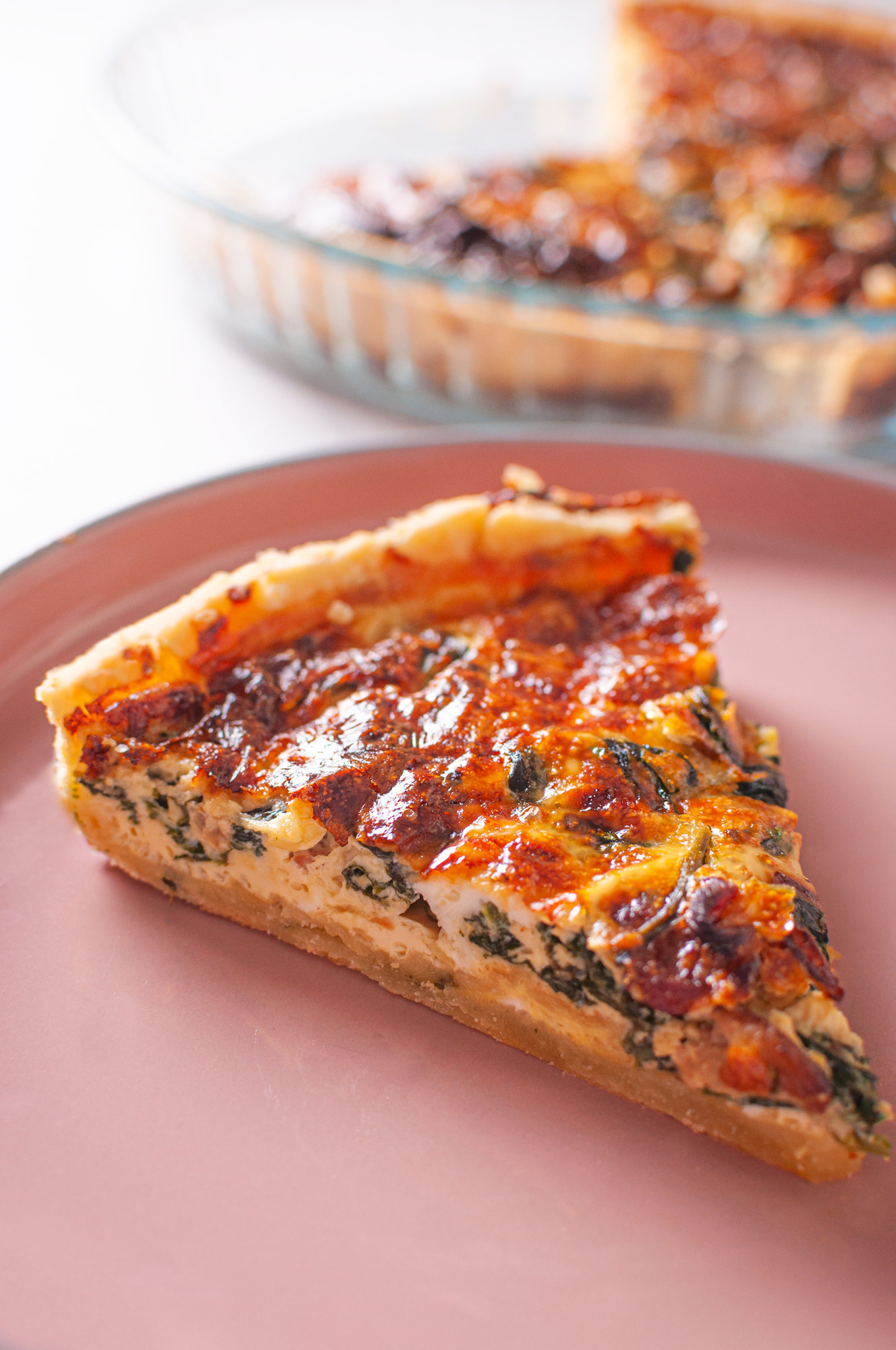 180 gramos de harina sin tacc/premezcla
1/2 cucharadita de goma xántica
(Si queres hacerlo vegano, reemplazar la manteca por manteca vegana y agregar 57 ml de agua en vez del medio huevo).
Paso 1) En un bowl combina los ingredientes secos, agrega la manteca en cubos. Frotar la manteca contra la harina entre tus dedos hasta crear una consistencia arenosa/migas de pan. Agregar el agua y huevo.
Paso 2) Pon un poco de harina en la mesada y trabaja la masa hasta que este bien integrada. Dejar enfriar hasta por lo menos una hora y media. Una vez fría, estirarla y cubrir con cuidado el molde de la tarta, no te preocupes si se rompe podes juntarla y apretar la masa de nuevo! Pre calentar el horno a 190 C (fan) y cocinar a ciegas la tarta por unos 20 min, remover las pesas y seguir cocinando por otros 10/15 min o hasta que este dorado.
2 tiras de pancetta cortada
1 cucharada de aceite de oliva
Paso 1: Calentar la cucharada de aceite de oliva en un sartén, agregar la cebolla y el ajo picado, cocinar hasta que la cebolla este suave. Agregar la pancetta y la espinaca. En un bowl mezclar los huevos, la leche y la crema, batir hasta que este todo integrado.  Agregar un pizca de pimienta.
Paso 2: Agregar la pancetta, espinaca, cebolla y ajo a la mezcla de crema. Agregar esa mezcla a la masa.
Paso 3: Cocinar por 40 minutos a 180 c. Dejar enfriar por diez minutos y a disfrutar!