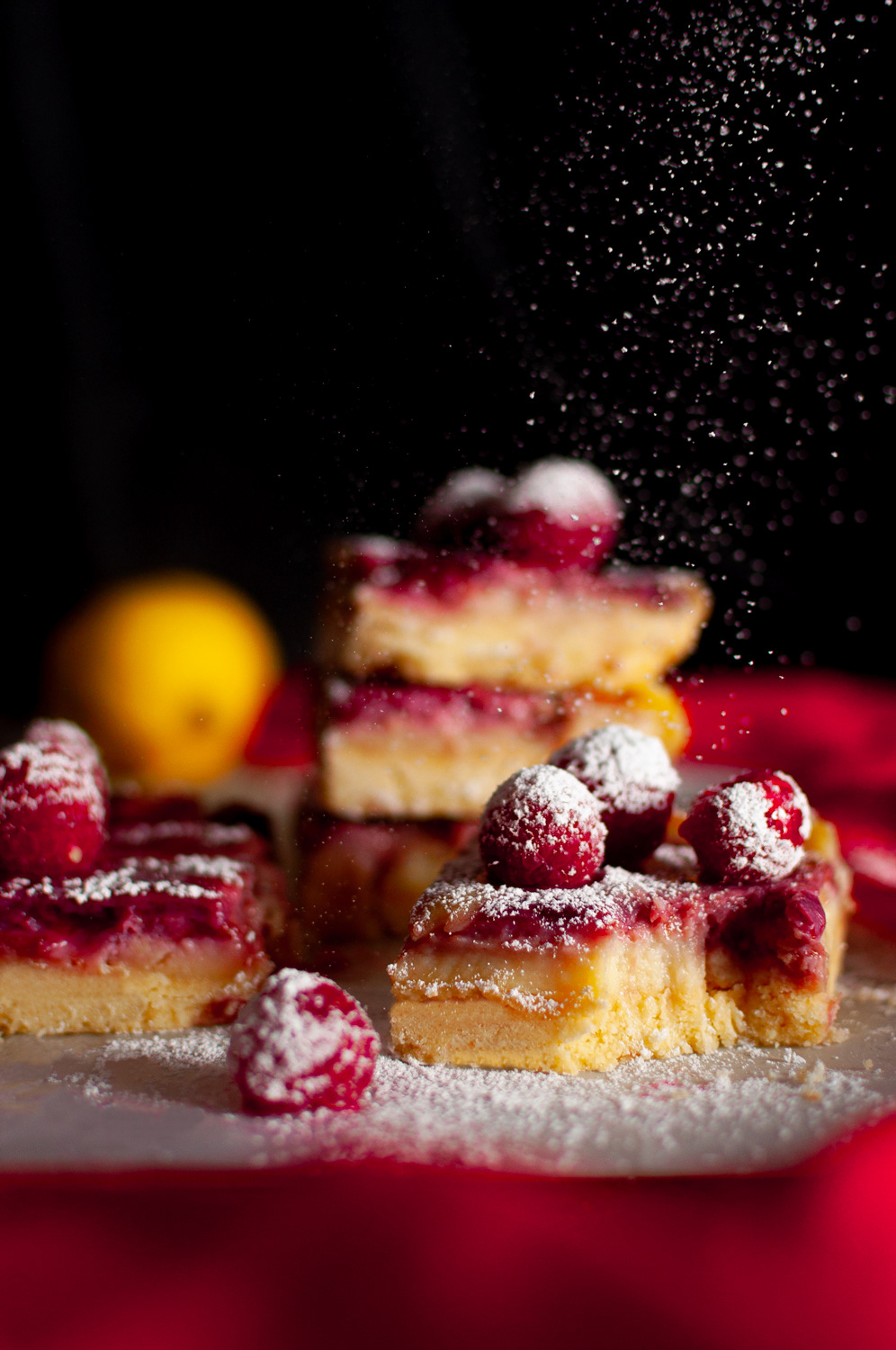 200g frozen raspberries or fresh if you want to.
Step 1: In a bowl sift the icing sugar and GF plain flour all together. Add the lemon zest if desired, combine. Add the cubed butter and mix it well (we are looking for a sand/crumbly consistency)
Step 2: Once you have the mixture ready, place it into your tin and push it with your fingers to create a crust. Bake it for 20 min at 180c (fan)/350f/200c. Let it cool down, while it's baking and  cooling down we can create the custard and raspberry goo.
Step 3: Create the custard. In a bowl add the 4 egg yolks and sugar, mix it all together until pale (about 5 min) add the cornstarch combine until smooth. In a pan, heat up the milk with the vanilla extract until simmer. Pour a little bit of the milk into the mixture and whisk it together until well combined (JUST A LITTLE BIT) then add the rest of the milk, bring it back to a simmer until it thickens it up, finally add the butter to smooth the mixture, cover the custard with some plastic wrap, let it touch the custard so it doesn't create a skin on the top.
Step 4: Create the raspberry goo. Add 200g of frozen raspberries into a pan, 62g of sugar, lemon juice and cornstarch, mix it well, simmer for 10/12 min.
Step 5: Once you have everything done. Add the custard on top and the raspberry goo, combine.
Step 6: Bake for 25 min on a preheated oven 180c(fan)/350f/200c. Top with Fresh Raspberries and dust it with some icing sugar.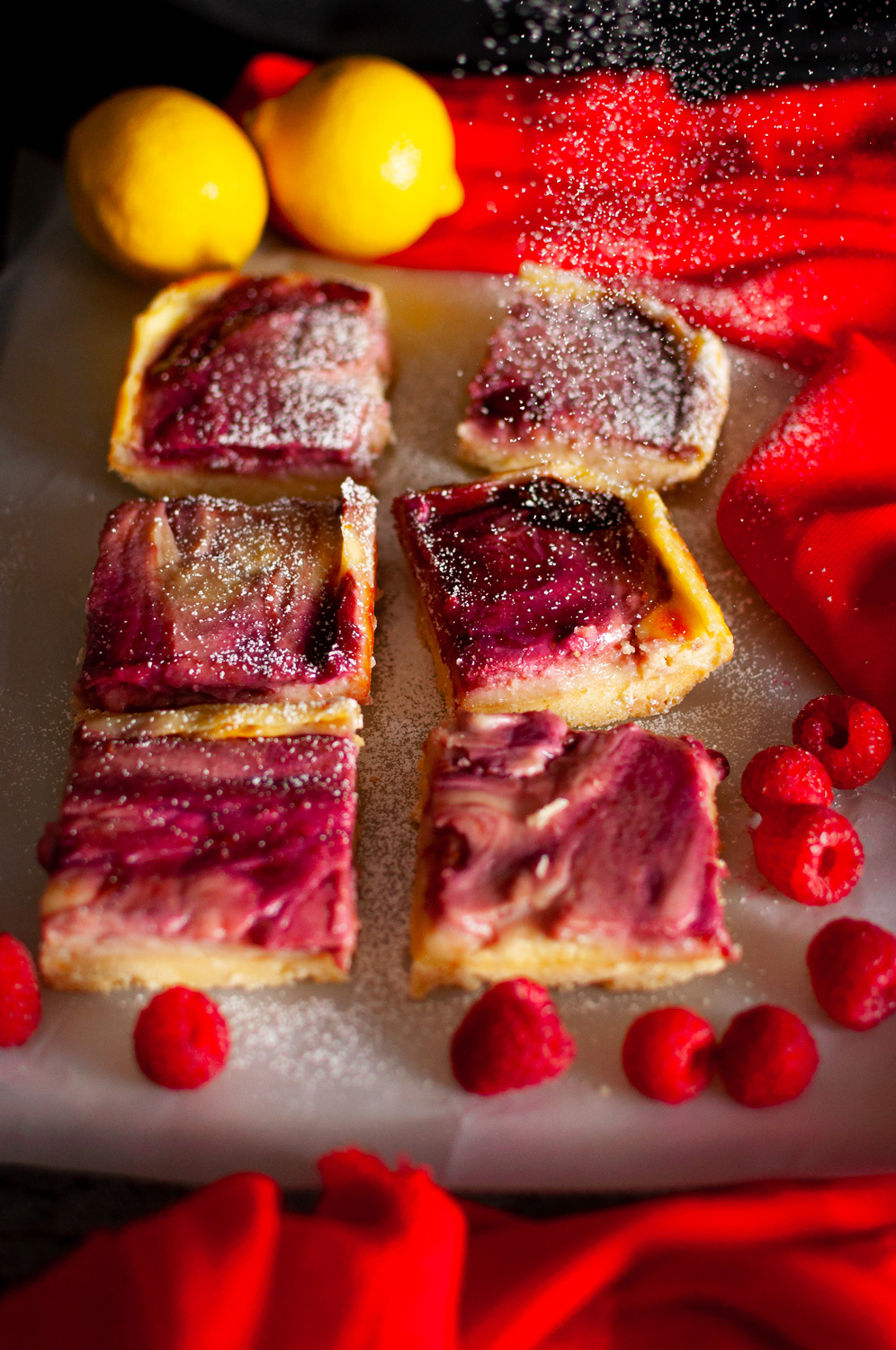 50g manteca (temp ambiente)
1/2 cucharadita de Goma xántica 
1 cucharada de esencia de vainilla
200g de frambuesas congeladas / pueden ser también frescas
Paso 1: En un bowl tamizar el azúcar impalpable y el harina sin tacc. Agregar la ralladura de limón si quieren, combinar. Agregar la manteca en cubos y mezclarla entre tus dedos (estamos buscando un arenado)
Paso 2: Una vez que tengamos la masa lista, pasarlo al molde, empujar la masa con los dedos para crear una base. Cocinarlo en un horno precalentado por 20 min a 180c (fan)/350f/200c. Dejar que se enfríe. mientras se esta cocinando y enfriandose vamos a hacer la crema pastelera y la salsa de frambuesa.
Paso 3: Crear la crema pastelera. En un bowl agregar las 4 yemas y el azúcar, mezclar hasta que este pálido (unos 5 minutos) agregar la maizena, combinar hasta que este todo integrado. En una olla agregar la leche,  la esencia de vainilla y llevarla a CASI hervor, (habrá burbujitas en las paredes de la olla). Agregar un poquito de la leche a la mezcla que hicimos anteriormente (solo un poquito ya que estamos templando las mezclas) una vez que este combinado agregar el resto de la leche, llevar la mezcla de nuevo a la hornalla a espesar y por ultimo agregar la manteca cuando este cremoso. Cubrir la crema con papel film, tiene que tocar el tope de la crema para que no se cree una costra.
Paso 4: Crear la salsa de frambuesa. En una olla agregar 200g de frambuesas congeladas, 62g de azúcar, jugo de limon y media cucharadita de maizena, mezclar bien y dejar cocinar a fuego lento por 10/12 minutos.
Paso 5: Cuando todo este hecho, agregar la crema pastelera a la base y arriba agregar la salsa de mermelada, mezclar.
Paso 6: Cocinar por 25 min a 180c(fan)/350f/200c en un horno precalentado. Decorarlo con frambuesas y azúcar impalpable.