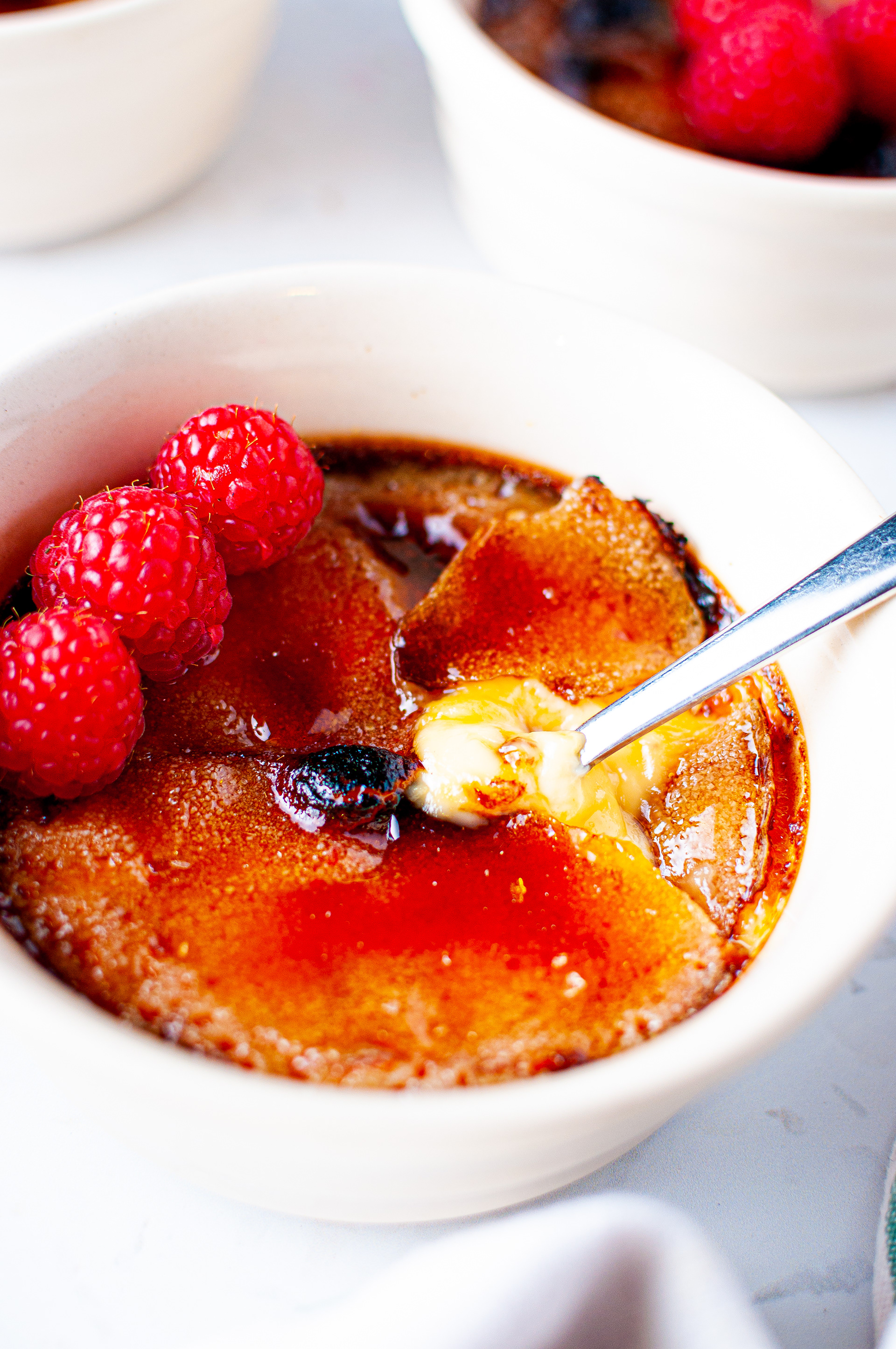 250 ml of heavy cream (I used lactose free)
50 ml milk  
(I used lactose free)
1 tbsp of vanilla extract
50g sugar + extra for dusting 
Step 1: Pour the heavy cream, milk and vanilla extract into a pan and heat it up until an almost boil then reduce the heat and let it simmer.
Step 2: While that's heating up, whisk egg yolks + sugar until you have a creamy and light consistency. 
Step 3: Pour 2 tablespoon of the cream and milk mixture into the egg yolks and whisk. Once that's well incorporated add the remaining cream mixture. Sieve the mixture so it's really smooth and creamy.
Step 4: Pour the mixture into ramekins. Get a roasting tray that's deep enough to hold boiling water. Place the ramekins into the tray and fill out the tray with the boiling water  until the ramekins are half way covered. We called this bain-marie.
Step 5: Bake for 35-40 min in a pre heated oven 180c (fan) until the mixture is set however if you shake is still wobbly in the middle. Do not over cook as they will get too firm and that's not what we want!
Step 6: let it cool down for a few min and put them straight fridge to cool down completely. 
Step 7: When you are ready to serve the dessert, remove it from the fridge, sprinkle some sugar on top, make sure all the circumference is covered. Now you have 2 options. 1) use a blowtorch to caramelize the sugar to 2) Grill it until it's caramelised. I didn't have a blowtorch so I used the grilling method! 
250 ml de crema (Use sin lactosa)
50 ml de leche 
(Use sin lactosa)
1 cucharada de esencia de vainilla
50g de azúcar  + extra para caramelizar 
Paso 1: Vierta la crema espesa, la leche y el extracto de vainilla en una sartén y caliéntelo hasta que casi hierva, luego reduzca el fuego y déjelo hervir a fuego lento.
Paso 2: Mientras se calienta, bata las yemas de huevo + el azúcar hasta que tenga una consistencia cremosa y ligera.
Paso 3: Vierte 2 cucharadas de la mezcla de crema y leche en las yemas de huevo y bate hasta que esté bien incorporada, agrega el resto de la mezcla de crema. Tamiza la mezcla para que quede realmente suave y cremosa.
Paso 4: Vierta la mezcla en moldes. Consiga una bandeja para asar que sea lo suficientemente profunda como para contener agua hirviendo. Coloque los moldes en la bandeja y llénala con agua hirviendo hasta que los moldes estén cubiertos hasta la mitad. Cocinaremos a baño Maria. (no encontré un video corto en español pero sirve igual)
Paso 5: Hornee durante 35-40 minutos en un horno precalentado 180c (ventilador) hasta que la mezcla esté firme, sin embargo, si se agita que todavía está temblando en el medio. ¡No cocines demasiado, ya que se pondrán demasiado firmes y eso no es lo que queremos!
Paso 6: Déjalos enfriar unos minutos y ponelos en la heladera para que se enfríen completamente.
Paso 7: Cuando estés listo para servir el postre, sácalos de la heladera, espolvorea un poco de azúcar por encima, asegúrate de cubrir toda la circunferencia. Ahora tienes 2 opciones. 1) Caramelizar el azúcar con un soplete. 2) Ponerlo en el grill hasta que esté caramelizado. Yp no tenía un soplete, ¡así que usé el método del grill!