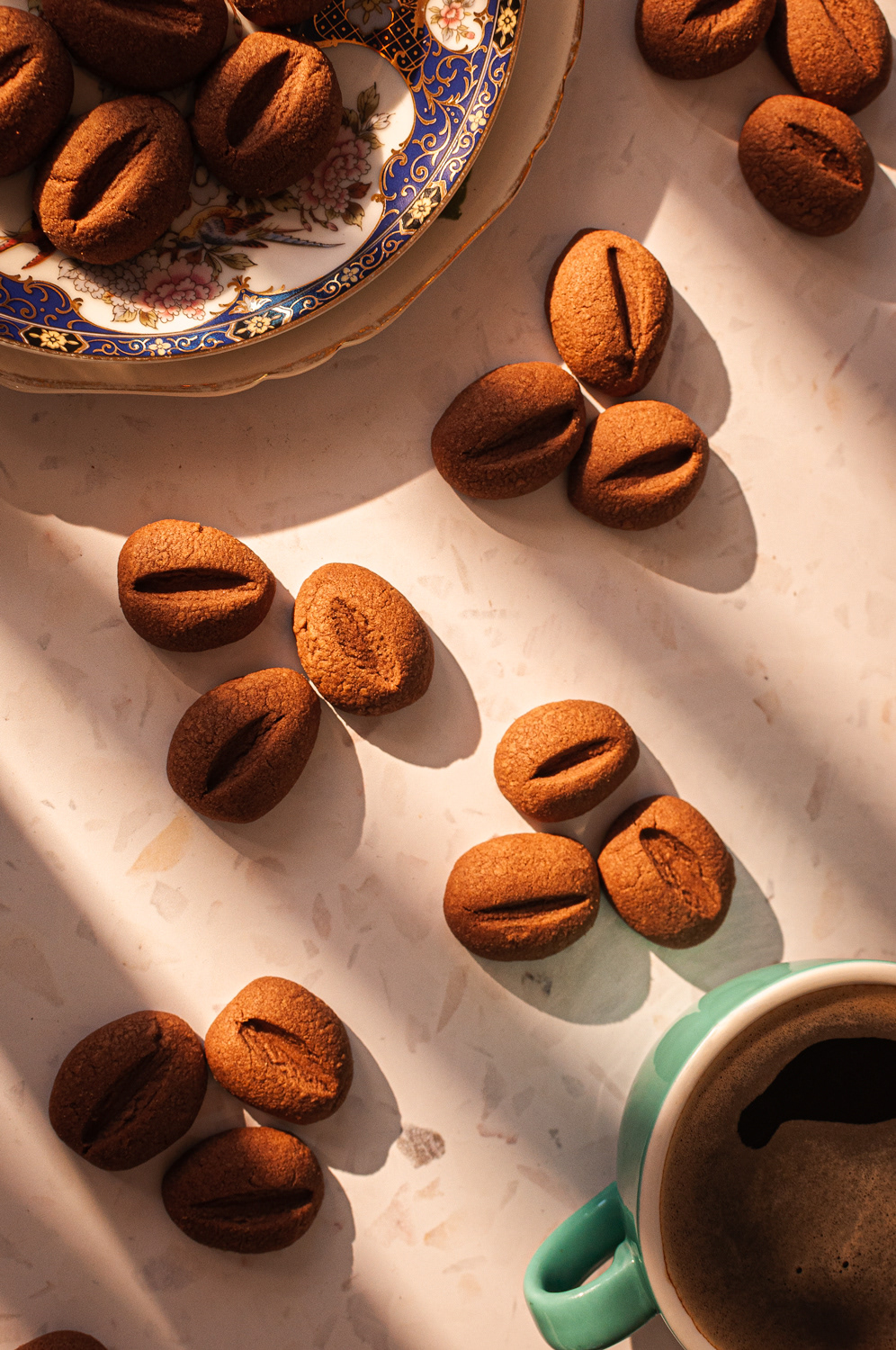 77g Gluten Free cake flour (if you don't have cake flour you can use GF all purpose flour)
Step 1: Add the warm milk to the instant coffee powder and combine. In another bowl mix the butter until pale and fluffy, add the icing sugar, once combined, add half egg yolk, instant coffee mixture and vanilla extract.
Step 2: Sift the Gluten Free cake flour, cornstarch, cocoa powder and xanthan gum. Mix it well until everything is well combined.
Step 3: I used a kitchen scale for the next step however if you don't have one you can do it by eye. Form small round balls and shape it as bean, mine were 5g each, with a knife create a small line in the middle of the dough. Refrigerate for at least half an hour.
Step 4: Bake for 10 -12 min at 160c (fan) - 350 F - 180 c (gas). Let it cool down.
77g Harina de torta Sin Tacc (si no debes harina para tortas, podes usar harina normal sin tacc)
1/2 cucharadita de goma xántica
1/4 cucharadita de esencia de vainilla
Paso 1: Agregar la leche tibia al café instantáneo, mezclar bien y dejar a un costado. En otro bowl batir la manteca hasta que este pálida y esponjosa, agregar el azúcar impalpable, una vez combinado agregar la media yema, la mezcla del cafe instantáneo y la esencia de vainilla.
Paso 2: Tamizar la harina sin tacc, maizena, cacao en polvo y goma xántica. Mezclar bien hasta que todo este integrado.
   Paso 3: Para este paso utilice una balanza pero si no tenes una no pasa nada podes hacerlo a ojo. Hay que formar bolitas redondas y darle forma de granos de cafe, forma ovalada. Mis granos de cafe pesan 5g cada uno. Con un cuchillo haz una marca en el medio de los granos de cafe. Llevar la masa a la heladera para que se enfríe por lo menos media hora.
Paso 4: Cocinar la masa por 10-12 min a 160c (fan) - 350 F - 180 c (gas)