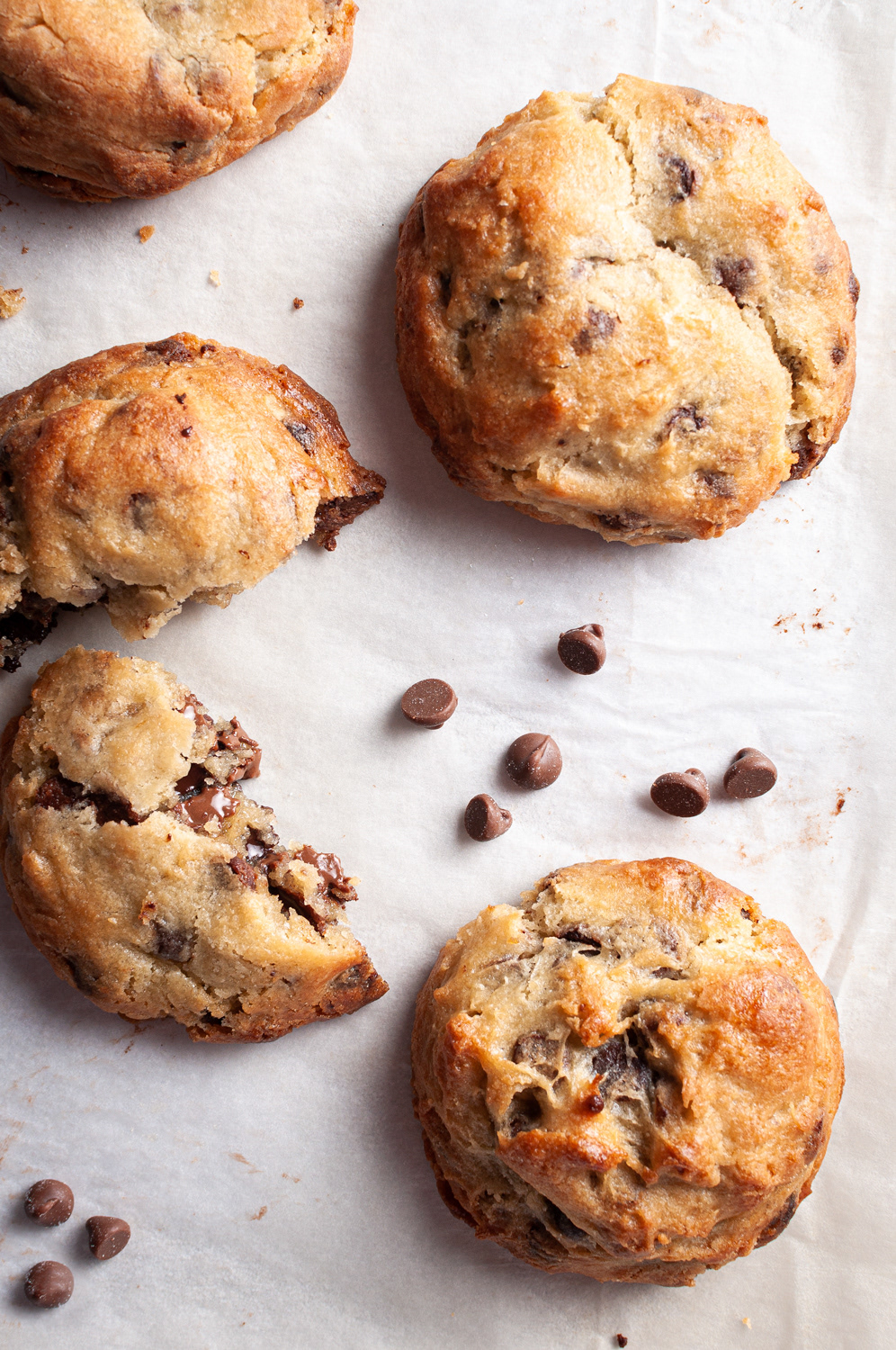 95g Cold Chopped Unsalted Butter
Step 1: In a bowl add the butter + sugars (both of them), mix for 30 seconds, we are just breaking the butter, looking a sand consistency, add the choco chips, mix again.
Step 2: Add the flour + xanthan gum + Baking Powder and salt. Combine for another minute. The last step is to add the beaten egg and mix.
Step 3: Create some cookie balls, weight them = 100g each or 125g according to cupcake Jemma. Place them in the fridge for an hour and a half.
Step 4: Pre heat the oven 180c (fan), place the baking tray for 10 minutes then place the cookies on top and bake them between 12-15 min until golden brown. Leave it to cool down for at least 5 minutes, Enjoy.
95g manteca cortada en cubos
270g de premezcla sin tacc
1 cucharadita de goma xántica
Paso 1: En un bowl agregar la manteca + azúcar/azúcar rubia y mezclar por 30 segundos, estamos tratando de combinar y romper la manteca no buscamos cremar la manteca! Agregar los chips de choco y revolver.
Paso 2: Agregar la premezcla sin tacc, Goma xántica, polvo de hornear y sal. Combinar por otro minuto. El ultimo paso es agregar el huevo batido y mezclar nuevamente.
Paso 3: Crear unas bolitas con la masa y pesarlas para que todas salgan iguales. Las mias pesan 100g cada una pero Cupcake Jemma recomienda 125g. Llevarlas a la heladera por una hora y media.
Paso 4: Pre calentar el horno a 180c, poner la bandeja vacía a calentar por diez minutos, agregar las galletitas en la bandeja cuando hayan pasado los 1 min y cocinar entre 12-15 minutos. Estamos buscando que estén doradas por afuera. Dejar enfriar por 5 minutos. A Disfrutar.